Intermediate Spanish For Dummies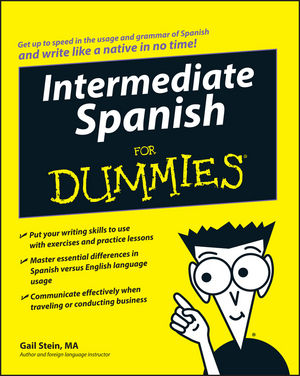 Intermediate Spanish For Dummies
ISBN: 978-0-470-28730-9 April 2008 336 Pages
Description
Need to brush up on your Spanish? Intermediate Spanish For Dummies is your key to success in building your writing skills and bolstering your confidence. It gives you the straight talk and nitty-gritty detail that will see you successfully through any major or minor roadblocks to communicating in Spanish.

This friendly, hands-on workbook is loaded with practical examples and useful exercises so you can practice how native speakers use the language. From vocabulary and numbers to juggling tenses, you'll get a clear understanding of the nuances of Spanish style and usage that will have you writing like a native in no time. Plus, you'll find multiple charts that provide conjugations for all types of Spanish verbs. You'll get up to speed with Spanish grammar, master essential differences between Spanish and English language usage, and be able to communicate effectively when traveling or conducting business. Discover how to:
Use fundamental Spanish grammar, from nouns, adjectives, and adverbs to pronouns, prepositions, and conjunctions
Select and conjugate Spanish verbs correctly
Understand the importance of grammatical gender in Spanish
Avoid the most common writing mistakes
Use numbers and express dates and times
Name countries and nationalities in Spanish
Expand your Spanish vocabulary exponentially
Get comfortable with the subjunctive
Combine verbs with confidence and competence
Sharpen your Spanish-language skills the fun and easy way with Intermediate Spanish For Dummies.
Introduction.
Part I: Reviewing the Basics.
Chapter 1: Looking at Some Everyday Basics.
Chapter 2: Selecting the Proper Part of Speech.
Part II: Writing in the Present.
Chapter 3: Sorting Out Word Gender.
Chapter 4: Writing in the Present with Action.
Chapter 5: Getting Answers with the Right Questions.
Chapter 6: Doing It Right Now: Gerunds and the Present Progressive.
Chapter 7: Expressing Yourself with Subjunctive Feeling.
Part III: Writing for Specific Clarity.
Chapter 8: Coloring Your Sentences with Adjectives and Adverbs.
Chapter 9: Getting Attention with Commands.
Chapter 10: Being Clear and Concise with Object Pronouns.
Chapter 11: Reflecting on Reflexive Pronouns and Verbs.
Chapter 12: Preparing to Connect with Prepositions.
Part IV: Writing in the Past and in the Future.
Chapter 13: Leaving It Completely in the Past.
Chapter 14: Looking Back with the Imperfect.
Chapter 15: Seeing into the Future.
Part V: The Part of Tens.
Chapter 16: Ten Most Common Writing Mistakes in Spanish.
Chapter 17: Ten Tips for Writing Well in Spanish.
Chapter 18: Ten Important Verb Distinctions.
Part VI: Appendixes.
Appendix A: Verb Charts.
Appendix B: English-to-Spanish Dictionary.
Appendix C: Spanish-to-English Dictionary.
Index.
"The Dummies series is deservedly popular...It is packed with practical and informative lessons and reviews to develop Spanish skills."  (Spain Magazine, February 2008)