Intermetallic Compounds: Principles and Practice, 2 Volume Set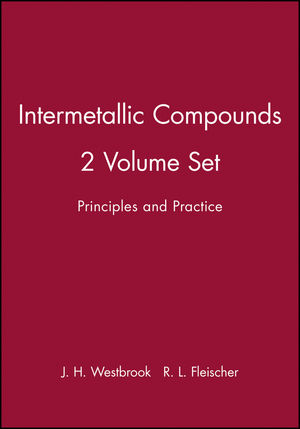 Intermetallic Compounds: Principles and Practice, 2 Volume Set
ISBN: 978-0-471-93453-0 February 1995 1934 Pages
Description
These two volumes provide a comprehensive source for scientists and engineers interested in intermetallics. Experts from 15 countries cover fundamental theory, experimental aspects, practical applications (both current and potential) and critical assessment. Volume one is devoted to the science of intermetallic compounds - their formation, structure, bonding and properties. Volume two deals with the applications of intermetallic compounds, from initial uses, present commercial and future applications.
Partial table of contents:

BONDING AND STABILITY.

Electronic Theories of Alloy Phase Stability (P. Turchi).

The Embedded-Atom Method (A. Voter).

Band Structures and Their Interpretation (D. Singh).

CRYSTAL STRUCTURES.

Factors Governing Crystal Structures (P. Villars).

Structure Mapping (D. Pettifor).

Magnetic Structures (W. Roth).

DEFECT STRUCTURES.

Point Defects (C. de Novion).

Free Surfaces (D. Farkas).

FORMATION AND CONSTITUTION.

Naturally Occurring Intermetallic Compounds (R. DeVries).

Synthesis and Processing Techniques (P. Martin & D. Hardwick).

KINETICS AND PHASE TRANSFORMATIONS.

Diffusion (L. Larikov).

Irradiation Damage (L. Howe).

PROPERTY FUNDAMENTALS.

Intergranular and Cleavage Fracture (C. Briant).

Thermal Behavior (G. White).

Indexes.