Internal Audit Reports Post Sarbanes-Oxley: A Guide to Process-Driven Reporting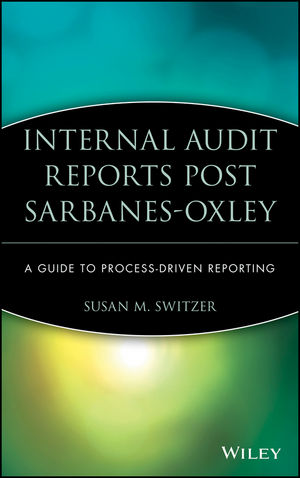 Internal Audit Reports Post Sarbanes-Oxley: A Guide to Process-Driven Reporting
ISBN: 978-0-470-11239-7
Apr 2007
208 pages
Description
Brimming with commonsense advice delivered in a conversational, easy-to-read style, Internal Audit Reports Post Sarbanes-Oxley: A Guide to Process-Driven Reporting helps you transform raw data into useable information and then translate that information into actionable messages while complying with the SOX Act.
Preface.
Acknowledgments.
About the Author.
About the Institute of Internal Auditors.
SECTION ONE: FROM VENI, VIDI, VICI TO SOX.
Chapter 1: Process-Driven Reporting.
Chapter 2: The Latest Standards.
Chapter 3: New Rules and New Tools.
SECTION TWO: GOING WITH THE FLOW.
Chapter 4: New Looks for Audit Reports.
Chapter 5: The Value-Added Spoken (and E-Mailed) Word.
SECTION THREE: REPORT WRITING 101, ER, MAKE THAT 404.
Chapter 6: Critical Word Choices.
Chapter 7: Structured Sentences.
Chapter 8: Paragraphs, Punctuation, and Capitalization.
Chapter 9: Graphics and Editing.
SECTION FOUR: IT'S A FLAT WORLD AFTER ALL.
Chapter 10: It's a Flat World After All.
APPENDICES.
Appendix A: Professional Standards.
Appendix B: Find the Flaws.
Appendix C: Bibliography.
Index.