Internal Controls Policies and Procedures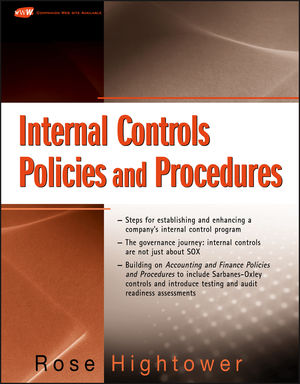 Internal Controls Policies and Procedures
ISBN: 978-0-470-28717-0
Oct 2008
272 pages
Description
Drawing on her many years as a consultant to numerous companies big and small, author Rose Hightower infuses Internal Controls Policies and Procedures with her wealth of experience and knowledge. Instead of reinventing the wheel, your company can use this useful how-to manual to quickly and effectively put a successful program of internal controls in place. Complete with flowcharts and checklists, this essential desktop reference is a best practices model for establishing and enhancing your organization's control framework.
Buy Both and Save 25%!
Original Price:$200.00
Purchased together:$150.00
save $50.00
Cannot be combined with any other offers.
How to Use this Manual.
Preface.
Governance Journey.
A01 Big G to little g governance journey.
Appendix: Background for COSO, SOX, PCAOB.
A02 Risk Assessment.
A03 Oversight.
A04 Documentation.
Internal Control Program.
B01 Internal Control Program.
B02 Internal Control Process.
B02a Internal Control Policy and Procedure.
B02b Internal Control Program Charter.
B02c Internal Control Plan.
B03 Authorization and Approval Program.
B03a Delegation of Authority.
B03b Authorization – Delegation, SubDelegation of Authority.
B03c Responsibility, Authority, Support, Counsel, and Inform (RASCI).
B04 Information Technology Program.
B04a End–User Computing—Control of Spreadsheets Policy and Procedure.
B05 Account Reconciliation Program.
B05a Account Reconciliation.
B06 Quarterly Subcertifi cation Program.
B06a Quarterly Subcertifi cation.
B06b Quarterly Subcertifi cation – Matrix.
B06c Quarterly Financial Subcertifi cation Training For First-Time Subcertifiers.
Control Activity Program Testing Guides.
C01 Control Activity Program.
C01a Control Activities Template.
C01b Result of Control Activity Testing.
C01c Internal Control – Planning, Testing, and Remediation Worksheet.
C01d Reporting Scorecard.
C02 AP – Disbursements.
C02a AR – Allowance for Doubtful Accounts.
C02b AR – Cash Applications.
C02c AR – Collections.
C02d AR – Credit Administration.
C02e Cash and Marketable Securities.
C02f Financial Planning and Analysis.
C02g Fixed Assets, Long Lived Assets.
C02h Intercompany Transactions – Cross Charges.
C02i Raw Materials and Inventory.
C02j Journal Entries.
C02k Payroll.
C02l Procurement.
C02m Revenue Recognition.
C02n Retail Sales Orders to Business Partners.
C02o Income Tax.
Appendix.
Internal Control Planning, Testing and Remediation Worksheets.
Acronyms.
References.
Index.