Internal Evaluation in the 21st Century: New Directions for Evaluation, Number 132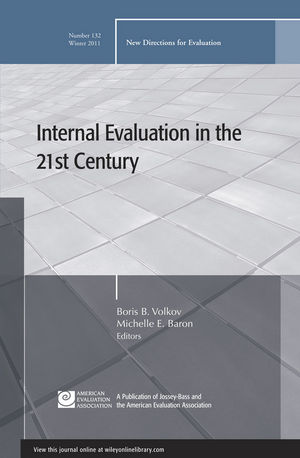 Internal Evaluation in the 21st Century: New Directions for Evaluation, Number 132
ISBN: 978-1-118-20430-6 January 2012 Jossey-Bass 128 Pages
Description
Nowadays, a considerable amount of evaluation work is implemented internally—both nationally and across the world. As such, it is exceedingly important for evaluators and organizations to be aware of the issues in designing and implementing internal evaluation to realize its potential for enhancing organizational growth, competitive advantage, and social impact. This issue includes perspectives on internal evaluation from experienced evaluation practitioners from different fields and organizations who share theoretical and practical examples and case studies in promoting and conducting internal evaluation. The chapters:
Highlight societal and organizational changes that have shaped the current trends in internal evaluation

Discuss foundational issues in internal evaluation

Provide rich illustrations of internal evaluation practice in different settings with diverse foci (customer-driven vision and a results-based orientation for evaluation, accountability and development, and building evaluation capacity).
This is the 132nd volume of the Jossey-Bass quarterly report series New Directions for Evaluation, an official publication of the American Evaluation Association.
EDITORS'NOTES 1
Boris B. Volkov, Michelle E. Baron
1. Internal Evaluation a Quarter-Century Later: A Conversation With Arnold J. Love 5
Boris B. Volkov
This chapter features a conversation with Dr. Arnold J. Love, a longtime proponent of internal evaluation and one of the most cited internal evaluation authors.
2. Internal Evaluation, Historically Speaking 13
Sandra Mathison
The author analyzes the growth and nature of internal evaluation from the 1960s to the present and suggests that internal evaluation has been on the increase because of its perceived importance. The chapter concludes with some speculation about the nature of future internal evaluation.
3. Beyond Being an Evaluator: The Multiplicity of Roles of the Internal Evaluator 25
Boris B. Volkov
The chapter explores critical roles of internal evaluators in contemporary organizational settings. The need is highlighted for an expanded, reconfigured, unorthodox set of roles and styles of work to meet the needs of the emerging learning organizations effectively.
4. Predicament and Promise: The Internal Evaluator as Ethical Leader 43
Francis J. Schweigert
This chapter discusses the conjunction of ethics and evaluation in the role of the internal evaluator as the person specially commissioned to investigate value and render judgment based on evidence gathered.
5. Evaluation Survivor: How to Outwit, Outplay, and Outlast as an Internal Government Evaluator 57
Ted Kniker
This article addresses the author's experience and insights as the chief of evaluation for public diplomacy at the U.S. Department of State and as a consultant assisting federal agencies in a multitude of evaluation activities relating what helps and hinders internal evaluation functions.
6. Internal Evaluation in American Public School Districts: The Importance of Externally Driven Accountability Mandates 73
Jean A. King, Johnna A. Rohmer-Hirt
The chapter traces the historical development of internal evaluation in American school districts, highlights four current forms of internal evaluation, and concludes with implications of current practice for the continuing development of internal educational evaluation.
7. Designing Internal Evaluation for a Small Organization With Limited Resources 87
Michelle E. Baron
The chapter outlines strategies that small organizations at the early, midterm, and seasoned levels of evaluation capacity can cultivate, and offers some practical tips for evaluators on developing and maintaining internal evaluation within a small organization.
8. Issues in Internal Evaluation: Implications for Practice, Training, and Research 101
Boris B. Volkov, Michelle E. Baron
This chapter highlights themes running throughout the preceding chapters, illustrates important issues in improving the design, implementation, and use of internal evaluation, and suggests new directions for how internal evaluation is conceptualized and practiced.
INDEX 113