Internal Medicine: The Essential Facts, 2nd Edition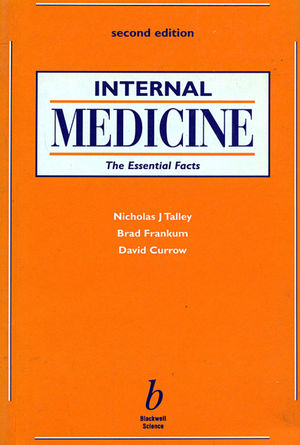 Internal Medicine: The Essential Facts, 2nd Edition
ISBN: 978-0-632-05613-2
Feb 2000, Wiley-Blackwell
404 pages
Description
This revision of a popular title gives an overview of internal medicine, highly relevant as a study and clinical aid. Complex material is distilled and organized in a logical, succinct and accessible way, with integration of clinical, laboratory/imaging and therapeutic information. Extensively re-written with the assistance of two new authors, each chapter has been carefully reviewed.

Up-to-date and portable, this little book caters to day-to-day clinical decision making, while also targeting postgraduate examination preparation. Each body system is dealt with in a separate chapter, with additional chapters on pharmacology and best evidence. In addition, material is further organized into clinical clues, pathophysiology, diagnosis, and treatment.

For medical students and junior doctors this is an important study aid and clinical reference. For allied health practitioners it is a straightforward reference, which can be used in the office or on the wards. For established practitioners, both general practitioners and specialists, it provides a rapid update in current diagnosis and therapeutics.
Preface.
Acknowledgements.
Abbreviations.
1 Epidemiology, sSatistics and Evaluation of the Literature.
2 Pharmacology.
3 Cardiology.
4 Respiratory Medicine.
5 Gastroenterology.
6 Hepatology.
7 Nephrology.
8 Neurology.
9 Endocrinology.
10 Haematology.
11 Oncology and palliative medicine.
12 Immunology and allergy.
13 Rheumatology.
14 Infectious diseases.
15 Medical dermatology.
16 Psychiatry.
Index.
"Money extremely well spent, I would recommend it to anyone trying to pass finals at the moment." (
Sphincter, Liverpool Medical Students' Society Magazine
)
"This is an excellent pocket-sized edition, which will prove to be invaluable in revision for the membership examinations.... A useful reference book, both for learning and revision. It achieves what many MCQ books fail to deliver - the complete answer, not just the reason why a stem is correct..." (Barts and the London Chronicle, Autumn 2000)
"...It is tight-lipped. It neatly summarises each field/subject. It uses tables and bulleted sentences. It fits neatly into a pocket. It tells you nothing that isn't essential. It's about internal medicine. It does exactly what is says on the cover." (Black Bag - Bristol Medical School Gazette, 2000)