International Book of Dyslexia: A Cross-Language Comparison and Practice Guide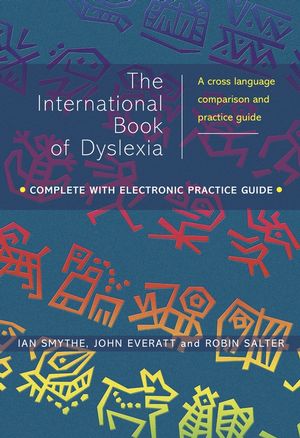 International Book of Dyslexia: A Cross-Language Comparison and Practice Guide
ISBN: 978-0-471-49841-4
Jan 2004
224 pages
Description
In the most extensive and wide-ranging book currently available, contributors have been gathered from all over the world to report on the current, global state of dyslexia research and practice.

In this volume, top researchers in the field describe specific difficulties in over 15 different languages, revealing that dyslexia relates not just to cognitive strengths and weaknesses, but also to the language and script in question.

In addition, readers can access an electronic supplement in which individuals, institutions and organisations from around the world report on policies, resources and training for people with dyslexia and those who work with them. Over 50 countries are included, together with details of all known dyslexia associations and resources.

This unique collection will be of interest to researchers, practitioners and policy makers. It also offers a wealth of information to those parents, teachers and individuals who are seeking support.

The electronic supplement to this volume is also available to purchase separately in paperback from your bookshop or from John Wiley & Sons Ltd. The International Book of Dyslexia: A Guide to Practice and Resources, ISBN 0470496464
List of Contributors.
Preface.
1. Dyslexia: A cross-linguistic framework (Ian Smythe and John Everatt).
2. Dyslexia in Arabic (Salim Abu-Rabia).
3. Dyslexia in Chinese (Wengang Yin and Brendan Weekes).
4. Research in Dyslexia in Danish (Dorthe Haven and Birgit Dilling Jandorf).
5. Developmental Dyslexia in the Dutch Language (Pieter Reitsma).
6. Developmental Dyslexia in English (Usha Goswami).
7. Dyslexia in Farsi (Kaveh Farrokh).
8. Dyslexia in Highly Orthographically Regular Finnish (Heikki Lyytinen, Mikko Aro and Leena Holopainen).
9. Dyslexia Research in German-Speaking Countries (Gerd Shulte-Körne).
10. Reading, Spelling and Dyslexia in Greek: Research on the) role of linguistic and cognitive skills (Costas D. Porpodas).
11. Developmental Dyslexia in the Hebrew Language (David L. Share and Mark Leikin).
12. Research on Dyslexia in Hungarian (Éva Gyarmathy).
13. Dyslexia in Italian (Patrizzio Tressoldi).
14. Learning to Read in Japanese: Word to sentence reading (Jun Yamada).
15. Dyslexia in Polish: Specific problems of dysle xic children in Poland (Marta Bogdanowicz).
16. Research on the Role of Phonology, Orthography and Cognitive Skills upon Reading, Spelling and Dyslexia in Brazilian Portuguese (Fernando C. Capovilla and Alessandra G.S. Capovilla).
17. Problems of Dyslexia in Russian (Olga Inshakova).
18. Dyslexia in Spanish (Almudena Giménez de la Pena).
19. Dyslexia in Swedish (Ingvar Lundberg).
20. Issues in the Assessment of Reading Disability in Second Language Children (Esther Geva and Lesly Wade-Woolley).
Index.
" ... extensive reservoir of experience with real children in real classes ... deserves serious attention." (Times Educational Supplement, 23rd September 2005)