International Business, European Edition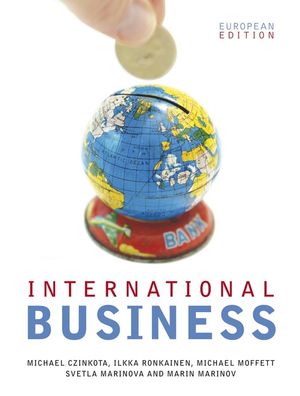 International Business, European Edition
ISBN: 978-E-UDT-E0032-4
Jul 2011
632 pages
Description
Essential reading for students studying International Business at Undergraduate and Postgraduate level, this text is based on the US book 'International Business' 7th Edition by Michael R. Czinkota, Ilkka A. Ronkainen, and Michael H. Moffett.  

Presenting an up-to-date and complete exploration of international business issues and practice, the text is built upon a strong foundation of theory and includes current examples, cases and insights showing how global businesses apply these concepts.  The text examines the role and impact of culture and also includes numerous current world maps, helping learners develop and refine a global perspective. 

Building on the strengths of the original work, the new text covers topics that are included in European International Business courses, eg, The Nature of International Business, Economic Integration, International Financial Markets and Emerging Issues in International Business.  The new text will provide a more critical approach and will be condensed into 15 chapters.
Preface.
About the Authors.
How to Use this Book.
PART ONE: INTERNATIONAL BUSINESS ENVIRONMENT.
Chapter 1: The Nature of International Business.
Chapter 2: Theory of Trade and Investment.
Chapter 3: Culture.
Chapter 4: Political and Legal Environment.
PART TWO: INTERNATIONAL BUSINESS AND MARKETS.
Chapter 5: International Financial Markets.
Chapter 6: Economic Integration.
Chapter: 7 Emerging Markets.
PART THREE: INTERNATIONAL BUSINESS STRATEGY.
Chapter 8: Entry and Expansion.
Chapter 9: Strategic Planning, Organization, Implementation and Control.
PART FOUR: INTERNATIONAL BUSINESS OPERATIONS.
Chapter 10 Marketing, Logistics and Supply Chain Management.
Chapter 11 Financial Management.
Chapter 12 International Human Resource Management.
Chapter 13 Corporate Governance, Accounting and Taxation.
PART FIVE: EMERGING ISSUES.
Chapter 14: Emerging Issues in International Business.
PART SIX: CASE STUDIES.
1. Vietnamese Catfish.
2. Car Financing in China.
3. Turkey's Kriz.
4. Lifton Hydra Team.
5. Cosmetics from Poland.
6. General Motors Russia.
7. Global Telecom Leaders.
8. Toyota.
9. When Diamonds Weep.
10. Gorjene.
11. Bolivia Oil and Gas.
12. BMW Corporate Governanace.
13. Danfoss China.
14. Gazprom-Naftogaz.
15. Wal-Mart.
Glossary.
References.
Index.
An opening vignette at the beginning of each chapter

New European and global examples throughout

European case studies with questions at the end of each chapter

An extensive website to include an instructor's manual, test bank and PowerPoint slides

Condensed from the 20 chapters of the original to 14 chapters to fit better with the majority of European courses.

Includes a part dedicated exclusively to fifteen case studies which detail relevant cases from around the world.

Full colour