International Business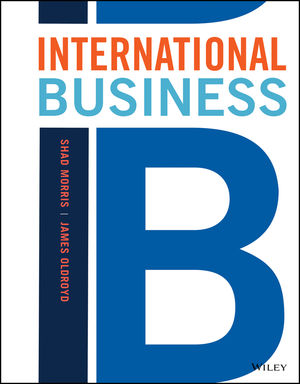 International Business
ISBN: 978-1-119-43361-3
Jun 2018
256 pages
Product not available for purchase
Description
Leveraging their extensive background filled with real-world experiences in a variety of countries at major corporations, authors Shad Morris and James Oldroyd provide a product that is clear, concise, and effective. Their inspiration to write was their desire to create an international business course that truly prepares the students to embark in the global business market and do so in a way that is easy for the instructors to use AND engaging for the students.
1. Globalization
2. Analytical Tools for International Business
3. Political Systems
4. The Legal Environment
5. Economic Systems
6. Currency and Foreign Exchange
7. Trade
8. Culture
9. Sustainability
10. Poverty
11. Technological Change and Infrastructure
12. Global Innovation and Intellectual Property
13. Country Selection and Entry
14. International Strategy
15. International Organizational Structures
16. Global Leadership
17. Global Marketing
18. Global Operations and Supply-Chain Management
19. Global Human Resource Management
20. Global Finance and Accounting
Glossary
Index
A modular learning platform will enable instructors to easily customize a unique and engaging learning experience for themselves and their students, enabling everyone involved to have an excellent learning experience (versus wading through a traditional 700-page printed text).
This new approach to IB integrates a streamlined "text" approach with whiteboard animations, and instructional videos designed for in- or out-of-class use (flipping the class).
The streamlined content includes cutting-edge topics and high-interest examples that are very applied to the business world; unique chapters on Poverty, Sustainability and Human Rights, is chock-full of unique animations, mini-simulations, and digital assets that fully bring International Business to life; is written by young (40s), high-power, digital-savvy authors (OSU, BYU) who are in the IB classroom trenches.
Unique instructional videos of the authors teaching the content. This library of videos will highlight best practices in classroom delivery mechanisms both for small and large class formats and include teaching notes.
Each chapter is organized around four learning objectives (concepts). These LOs have an exercise/activity/question/video to "activate students" with figures and tables to "illustrate" the content. At the end of each LO students will complete an application of the content.
Career Center Resources prepares students for future professions. Users can access great career resources like Inside Track, a career coaching system, and CareerShift, a leading job search tool. They also get Career Coach Videos and an ePortfolio guide.
Introductory videos launch each chapter. Ideal to use as a "lecture launcher," assign to prep your students for class, or use as a review, the introductory videos open each chapter with a mini-lecture. The introductory videos were created to provide a comprehensive, engaging, visually dynamic overview of the key concepts in each chapter.
Animated Summary Videos. Whiteboard animations, developed by the authors and Brigham Young University's Center for Teaching and Learning, provide highly engaging and easy to understand explanations of complex content supported by real-world examples. The animations also provide multiple modes of learning. These interactive digital experiences demonstrate the application of theory.
Cases. Short video and written cases integrated with each chapter help the instructor engage students in practical application of the materials. Cases include discussion and/or assessment questions.