International Council of Nurses: Nursing Leadership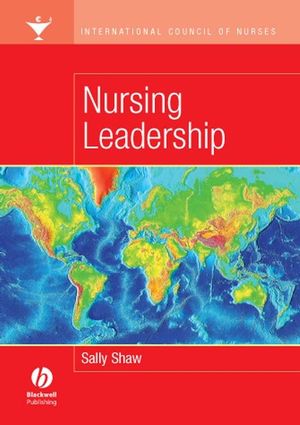 International Council of Nurses: Nursing Leadership
ISBN: 978-1-405-13523-8
Apr 2007, Wiley-Blackwell
232 pages
Description
Nursing Leadership focuses on principles of effective leadership and leadership development in nursing, and is equally applicable for other professional groups. The book explores the importance of balancing leadership theory and knowledge with the development of leadership skills based on action-learning, and using a framework of three integrated components: the person who is the leader, the setting of leadership, and the followers. Nursing Leadership highlights the importance of preparing nurses for leadership in a global context in light of the challenge of changing health services and nursing roles.





Nursing Leadership is brought to life with examples from the International Council of Nurses' experience with its 'Leadership for Change™ programme (LFC™)' implemented in over fifty countries and in a variety of socio-political and cultural contexts. The book addresses principles of effective leadership that promote successful and sustainable outcomes across many different settings, including within resource-limited health systems.
Introducing this book.
1 Background: the challenge of change.
2 What leadership is not.
3 About leadership: the person who is a leader.
4 About leadership: the setting and the followers.
5 Developing leaders: designing a successful program.
6 The soul of leadership and leadership development.
7 Leadership in practice: outcomes for the person.
8 Leadership in practice: outcomes for the setting and the followers.
9 Sustaining leadership outcomes and getting longer term impacts.
10 Defining success and getting a good return on investment.
11 Making a difference
"Using real histories from participants on the ICN Leadership for Change programme, this book explores in depth the leadership challenges facing nurses internationally. Nurses from more than 50 countries have completed the programme and their achievements make amazing reading. This text embodies the best aspects of international nursing leadership and testifies to the influence the ICN has had on nursing worldwide. It should be read by every nurse who sees the need for change."
Nursing Standard
"This book is a useful, easy to read and informative text suitable for experienced nurses wishing to develop their own leadership knowledge and skills."
Nursing Times, 2 October 2007

'The courage, wisdom and enthusiasm manifest in these exemplars makes the book quite unique and lifts it from being another (albeit very useful) leadership textbook into a league of its own... It is a worthwhile and enriching read and would be excellent material for professional practice subjects at both undergraduate and postgraduate level.'

Journal of Advanced Nursing
* Based on practical experience
* Published in collaboration with the International Council of Nurses
* A window on both national and global strategies
* A source for indicators of successful and sustainable development
* A record of vignettes and case studies derived from the LFC experience over 50 countries
* An informative and easy-to-read text on leadership