International Cuisine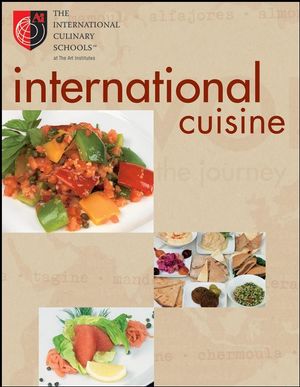 International Cuisine
ISBN: 978-0-470-59805-4 July 2010 880 Pages
Description
International Cuisine provides comprehensive coverage of cuisines found throughout the world not only through recipes and techniques, but also through coverage of the history, culture, geography, religion, and locally grown ingredients that influence these various cuisines.
Introduction.
Acknowledgments.
Mexico.
South America.
Caribbean.
Japan.
China.
Korea.
Southeast Asia.
Spain.
Middle East.
Turkey, Greece, and Crete.
Africa.
India.
British Isles.
France.
Italy.
Germany, Austria, Switzerland.
Scandinavia and Russia.
References.
Index.
A selection of menus and a total of 415 authentic recipes, representing all countries and regions discussed are included
Recipes are formulated for current practices and available ingredients, and include detailed ingredients lists and step-by-step instructions
Unusual ingredients were kept to a minimum, and recipes including them also have Chefs Tips, which indicate suitable substitutions
All menus and recipes were tested
32 beautiful color photographs illustrating finished dishes, included on two 8-page inserts, plus 50 b/w photos throughout
An emphasis on sustainability—most cuisines covered are based on sustainable food choices
Influences on cuisine span cultural, historical, religious, geographical, and include the influence of locally available ingredients, alongside cooking techniques
Maps included in each chapter
Countries chosen represent 5 continents, and the Caribbean and British Isles
Detailed ingredients lists and culinary glossaries for each county or region discussed
Organized in a flexible and accessible fashion so instructors can use the materials however they teach the course
Instructor's Manual available