International Economics, 12th Edition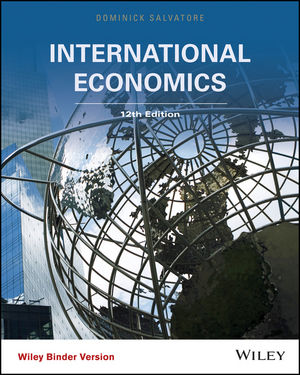 International Economics, 12th Edition
ISBN: 978-1-118-95574-1
Dec 2015
720 pages
Description
International Economics by Dominick Salvatore presents a comprehensive, up-to-date, and clear exposition of the theory and principles of international economics. Salvatore presents concepts that are essential for understanding, evaluating, and suggesting solutions to the important international economic problems and issues facing the United States and the rest of the world today and that they are likely to face in the coming years. Neither overly complex nor too simplistic, International Economics helps readers see the immediate relevance of the material and contains an unparalleled number of real-world applications and examples.
The 12th edition provides an in-depth analysis of the dangerous structural imbalances in the world economy and provides an evolution of the policy options available to deal with them.
New topics are discussed throughout the text such as: the rapid globalization of the world economy, the dollar-euro exchange rate, and the relationship between U.S trade deficits, trade protectionism and misaligned exchange rates.
New, extended, and revised sections and case studies in the trade theory and policy parts of the text include: benefits and challenges of globalization before and after the recent global financial crisis, EU-US trade disputes and protectionism, international trade and de-industrialization of the United States and other advanced countries, benefits and costs of NAFTA, international trade and environmental sustainability, and the debate over U.S. immigration policy, among others.
New sections and case studies in international finance include: size, currency and geographical distribution of the foreign exchange market, fundamental forces and "news" in exchange rate forecasting, the exploding U.S. trade deficit with China, petroleum prices and growth, inflation targeting and exchange rates, the Eurozone crisis and the future of the euro, and reforms of the international monetary system, among others.
Continuous Example The same example is utilized in all the chapters dealing with the same basic concept, which demonstrates clearly to students the relationship between different topics and concepts.
Case Studies There are 126 real-world short case studies throughout the text that reinforce and highlight the most important topics presented in each chapter.
Actual Numbers and Scales The use of actual numbers in examples and scales on graphs make the presented concepts and theories more concrete, accessible, and pertinent to students and the graphs easier to read and understand.