International Finance: A Casebook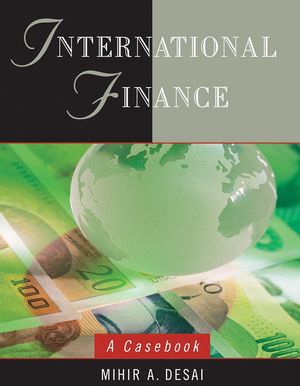 International Finance: A Casebook
ISBN: 978-0-471-73768-1
Feb 2006
520 pages
Description
These case studies offer a unique perspective on making financial decisions in a globalizing world. The cases build the basics of understanding international financial markets - including the economics of exchange rates and international asset allocation - and then consider how firm financing and investment decisions must adapt to international circumstances. The cases provide the opportunity to consider the most critical firm financial decisions - from foreign exchange hedging strategies, the financing of multinational firm subsidiaries, cross-border valuation, to how to measure and manage the risks of operating in emerging markets.

Mihir A. Desai is the Rock Center Associate Professor in the Finance and Entrepreneurial Management areas and the MBA Class of 1961 Fellow at Harvard Business School. He teaches International Financial Management at HBS using the case studies in this book. He is a Faculty Research Fellow of the NBER and his research has been cited in The Economist, BusinessWeek, The New York Times, and several other publications. Details of his research can be found at www.people.hbs.edu/mdesai.
Buy Both and Save 25%!
Original Price:$338.90
Purchased together:$254.17
save $84.73
Cannot be combined with any other offers.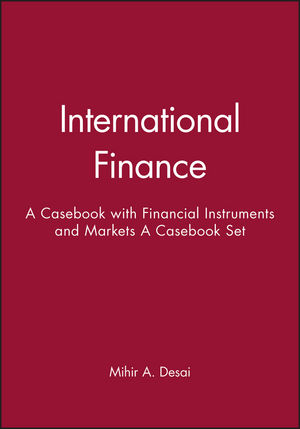 Original Price:$338.90
Purchased Together:$303.95
save $34.95
Introduction
PART I: EXCHANGE RATES, MARKETS, AND FIRMS.
Module 1.1. Exchange Rates and Global Markets.
1. Foreign Exchange Markets and Transactions.
2. Exchange Rate Policy at the Monetary Authority of Singapore.
3. Innocents Abroad: Currencies and International Stock Returns.
Module 1.2 Exchange Rates and Firms.
4. Hedging Currency Risks at AIFS.
5.Foreign Exchange Hedging Strategies at General Motors: Transactional and Translational Exposures.
6.Foreign Exchange Hedging Strategies at General Motors: Competitive Exposures.
PART II: MULTINATIONAL FINANCE.
Module 2.1 Financing Decisions within the Firm.
7. The Refinancing of Shanghai General Motors.
8. Corporate Inversions: Stanley Works and the Lure of Tax Havens.
9. The Continuing Transformation of Asahi Glass: Implementing EVA.
Module 2.2 Valuing Cross-Border Investments.
10. Valuing a Cross-Border LBO: Bidding on the Yell Group.
11. Globalizing the Cost of Capital and Capital Budgeting at AES.
12. Dow Chemical's Bid for the Privatization of PBB in Argentina.
PART III: CROSS-BORDER FINANCING.
Cross-Border Financial Decisions.
13. Drilling South: Petrobras Evaluates Pecom.
14. Nestlé and Alcon—The Value of a Listing.
15. Cross-Border Listings and Depositary Receipts.
16. Tax-Motivated Film Financing at Rexford Studios.
17. The Strategy and Sources of Motion Picture Finance.
PART IV: INSTITUTIONS AND FINANCE.
Module 4.1 Finance in Weak Institutional Environments.
18. Growing Up in China: The Financing of BabyCare Ltd.
19. Czech Mate: CME and Vladimir Zelezny (A).
20. Czech Mate: CME and Vladimir Zelezny (B1) – CME Negotiates.
21. Czech Mate: CME and Vladimir Zelezny (B2) – SBS Negotiates.
22. Czech Mate: CME and Vladimir Zelezny (B3) – Zelezny Negotiates.
23. Czech Mate: CME and Vladimir Zelezny (C) – The Struggle for Control.
Module 4.2 Regulatory Regimes.
24. Antitrust Regulations in a Global Setting: The EU Investigation of the GE-Honeywell Merger.
25. Redesigning Sovereign Debt Restructuring Mechanisms.
Provides students with a real-world view on International Finance topics.

Firm-Centric Approach. The cases in this book provide managers with a detailed and analytic look at major decisions undertaken by firms.  This approach sets this book apart from leading textbooks on international finance that emphasize macroeconomics and government influence on global markets.

Almost all of the cases are based on actual companies, real managers, and genuine issues they have faced- this creates student interest in understanding concepts through information about real companies and real investment vehicles.

Good case book to accompany, Shapiro Multinational Financial Management text or any other International Finance text that a professor may be using.