International GAAP 2008: Generally Accepted Accounting Practice under International Financial Reporting Standards, 2 Volume Set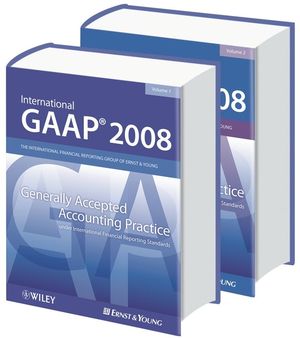 International GAAP 2008: Generally Accepted Accounting Practice under International Financial Reporting Standards, 2 Volume Set
ISBN: 978-0-470-69441-1 March 2008 3424 Pages
Description
IFRSs, the standards set by the International Accounting Standards Board (IASB), are complex and sometimes obscure. Understanding their implications and applying them appropriately requires something special....and that is why International GAAP 2008 is the essential tool for anyone applying, auditing, interpreting, regulating, studying and teaching international financial reporting. It provides expert interpretation and practical guidance for busy professionals, and includes, in every chapter, detailed analysis of how complex financial reporting problems can be resolved appropriately and effectively.

International GAAP 2008 is the only globally focused work on IFRSs. It is not constrained by any individual country's legislation or financial reporting regulations, and it ensures an international consistency of approach unavailable elsewhere. It shows how difficult practical issues should be approached in the new complex global world of international financial reporting, where IFRSs have become the accepted financial reporting system in more than 120 countries. This integrated approach provides a unique level of authoritative material for anyone involved in preparing, interpreting or auditing company accounts, for regulators, academic researchers and for all students of accountancy.

The International Financial Reporting Group of Ernst & Young includes financial reporting specialists from throughout the world. Complex  technical accounting issues are explained clearly in a practical working context that enables immediate understanding of the point at issue.

International GAAP 2008 is accompanied by numerous worked examples, a comprehensive discussion of the practical issues of the day and the possible alternative solutions available, and hundreds of practical illustrations taken from the actual financial statements of companies that report under IFRSs.
The only globally focused work on IFRS giving an international consistency of approach unavailable elsewhere
This new and essential volume of practical guidance and expert interpretation deals with every aspect of applying International Financial Reporting Standards (IFRS) appropriately and effectively
Written by financial reporting experts from the International Financial Reporting Group of Ernst & Young
Includes a new chapter on Extractive Industries (mining, oil & gas), the biggest industry sector in the world
This new edition in the International GAAP® series serves as a successor to the same authors' market-dominating UK GAAP and UK & International GAAP
""an important part to play in the process of promoting consistent, comparable and high quality financial reporting under IFRSs … a book that not only provides an analysis of the requirements of the standards and the principles that they expound, but also presents a unique explanation of how the standards should be interpreted and applied in practice.""
—the Chairman of Trustees of the IASC Foundation
Praise for previous editions in the International GAAP series:
""A standard reference work""
—Financial Times
""The definitive guide to financial reporting""
—The Times
Volume 1.
1. The development of International GAAP.
2. The quest for a conceptual framework for financial reporting.
3. Presentation of financial statements and accounting policies.
4. Non-current assets held for sale and discontinued operations.
5. First-Time adoption.
6. Consolidated and separate financial statements.
7. Business combinations and goodwill.
8. Associates.
9. Joint ventures.
10. Foreign exchange.
11. Hyperinflation.
12. Intangible assets.
13. Property, Plant and Equipment.
14. Investment Property.
15. Impairment of fixed assets and goodwill.
16. Capitalisation of borrowing costs.
17. Financial instruments: Introduction.
18. Financial instruments: Recognition, derecognition and offset.
19. Financial instruments: Financial liabilities and equity.
20. Financial instruments: Measurement.
21. Financial instruments: Hedge accounting.
22. Financial Instruments: Disclosures.
Index of extracts from financial statements.
Index of standards.
Index.
Volume 2.
23. Inventories.
24. Construction contracts.
25. Leases.
26. Income taxes.
27. Provisions, contingent liabilities and contingent assets.
28. Revenue recognition.
29. Transactions with governments: grants and service concession arrangements.
30. Segment reporting.
31. Share-based payment.
32. Employee benefits.
33. Earnings per share.
34. Cash flow statements.
35. Related party disclosures.
36. Events after the balance sheet date.
37. Interim financial reporting.
38. Agriculture.
39. Extractive industries.
Index of extracts from financial statements.
Index of standards.
Index.