International HRM: Managing Diversity in the Workplace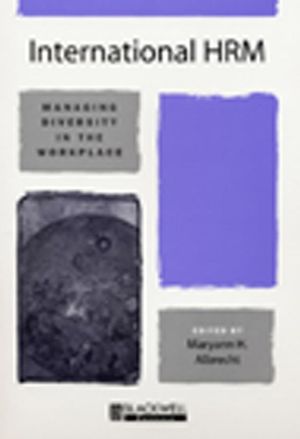 International HRM: Managing Diversity in the Workplace
ISBN: 978-0-631-21922-4 October 2000 Wiley-Blackwell 420 Pages
Description
This collection of articles and cases helps readers develop the knowledge, skills and attitudes that managers and human resource managers need for success when working in culturally diverse environments.
Notes on Contributors.
Foreword - Fred Luthans.
Acknowledgments.
Introduction.
Part I: Understanding Cultural Diversity in Global Business:.
1. Difference and Danger: Cultural Profiles of Nations and Limits to Tolerance - Geert Hofstede.
2. Key Concepts: Underlying Structures of Culture - Edward T. Hall and Mildred Reed Hall.
3. European Leadership in Globalization - Philip R. Harris and Robert T. Moran.
4. The Yin and Yang of Managing in Asia - Dean Allen Foster.
5. Case: A Difficult Start - Charlotte Butler and Henri-Claude de Bettignies.
6. Exercise: The World Wide Web and Cultural Diversity - Maryann H. Albrecht.
Part II: Strategic Human Resource Management:.
7. Are We Global Yet? - James W. Walker.
8. International HR Policy Basics - John J. Fadel and Mark Petti.
9. Integrated HR Systems Help Develop Global Leaders - Linda K. Stroh, Sven Grasshoff, André Rudé, and Nancy Carter.
10. A Contingency Matrix Approach to IHRM - Fred Luthans, Paul A. Marsnik, and Kyle W. Luthans.
11. Reaping the Rewards of NAFTA - Dick Bottorff.
12. Case: Diversity Management at Hewlett-Packard, Europe - Linda Brimm and Mandakini Arora.
13. Case: Eurochem Shanghai: Corporate Policy or China Practice? - Miles Dodd.
Part III: Recruitment, Selection, and Placement in a Global Context:.
14. The Boundaryless Organization: Implications for Job Analysis, Recruitment, and Selection - Jodi Barnes Nelson.
15. Building a Global Workforce Starts With Recruitment - Shannon Peters Talbott.
16. Four Faces of Global Culture - Peter L. Berger.
17. European Competencies - Some Guidelines for Companies - Bruno Leblanc.
18. Case: Grupo Financiero Inverlat - Daniel D. Campbell, Henry W. Lane, and Kathleen E. Slaughter.
Part IV: Training and Development:.
19. Diversity Training: A Competitive Weapon - Jenny C. McCune.
20. Training Across Cultures - Joyce L. Francis.
21. Strategy and HRM Initiatives for the '00s Environment: Redefining Roles and Boundaries, Linking Competencies and Resources - Richard M. Hodgetts, Fred Luthans, and John W. Slocum, Jr.
22. Global Dual-Career Couple Mentoring: A Phase Model Approach - Michael Harvey and Danielle Wiese.
23. Case: Bhiwar Enterprises - Gordon Brannan and Joseph J. DiStefano.
Part V: Employee Relations:.
24. The Multicultural Organization - Taylor Cox, Jr.
25. Managing Human Resources in Mexico: A Cultural Understanding - Randall S, Schuler, Susan E. Jackson, Ellen Jackofsky, and John W. Slocum, Jr.
26. New Manufacturing Strategies and Labour in Latin America -John Humphrey.
27. Coming to Terms With Local People - John Channon and Adam Dakin.
28. Being "a Third Culture Man" - Geert J. E. M. Sanders.
29. Case: The Evaluation - Charlotte Butler and Henri-Claude de Bettignies.
30. Case: Kentucky Fried Chicken and the Global Fast-Food Industry - Jeffrey A. Krug.
31. Put Your Ethics to a Global Test - Charlene Marmer Solomon.
32. Diversity Stress as Morality Stress - Rae André.
33. Remote Control - Neil Merrick.
34. Should HR Survive? A Profession at the Crossroads - Anthony J. Rucci.
35. Cultural Diversity Programs to Prepare for Work Force 2000: What's.
Gone Wrong? - Norma M. Riccucci.
36. Case: Anglo German Trading Corporation - Kenneth E. Roberts.
37. Case: Novell's Global Strategy: "Bytes Are Somewhat Narcotic" - Marjorie McEntire, C. Brooklyn Derr, and Chris Meek.
Index.
"Well crafted and detailed. I appreciate the quality of Maryann's work and her ability to get at the issues important in understanding contemporary Human Resources thought and practice." Dr Kenneth R Thomson, De Paul University.


Highlights the very latest trends and issues in global diversity that affect human resource management.


Articles have been carefully chosen from a wide variety of cultural perspectives.


Case applications provide real life examples of successes and problems in a variety of countries.