International Handbook of Work and Health Psychology, 3rd Edition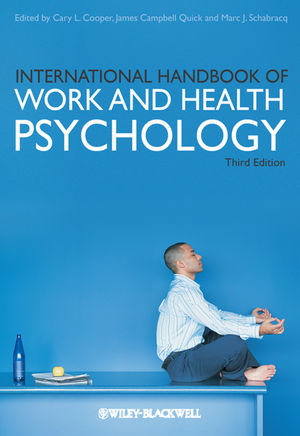 International Handbook of Work and Health Psychology, 3rd Edition
ISBN: 978-1-119-05725-3
Apr 2015, Wiley-Blackwell
512 pages
Description
Now in its third edition, this authoritative handbook offers a comprehensive and up-to-date survey of work and health psychology.
Updated edition of a highly successful handbook
Focuses on the applied aspects of work and health psychology
New chapters cover emerging themes in this rapidly growing  field
Prestigious team of editors and contributors
About the Editors.
List of Contributors.
Chapter 1 Introduction (Gary L. Cooper, James Campbell Quick and Marc J. Schabracq).
Part I: The Context of Work and Health Today.
Chapter 2 Health and Well-Being: The Role of the Psychological Contract (David Guest and Neil Conway).
Chapter 3 The Social Context of Work Life: Implications for Burnout and Work Engagement (Michael P. Leiter and Naomi Stright).
Chapter 4 The Effects of Job Strain on Risk Factors for Cardiovascular Disease (Arie Shirom, Galit Armon, Shlomo Berliner, Itzhak Shapira and Samuel Melamed).
Chapter 5 Sickness Presenteeism and Attendance Pressure Factors: Implications for Practice (Caroline Biron and Per Øystein Saksvik).
Part II: Individual Differences and Health.
Chapter 6 Individual Differences, Work Stress and Health (Norbert K. Semmer and Laurenz L. Meier).
Chapter 7 Gender and Work Stress: Unique Stressors, Unique Responses (Faye K. Cocchiara and Myrtle P. Bell).
Chapter 8 Work Experiences, Stress and Health among Managerial Women: Research and Practice (Ronald J. Burke and Astrid M. Richardsen).
Part III: The Role of Workplace Factors on Health.
Chapter 9 The Role of Job Control in Employee Health and Well-Being (Paul E. Spector).
Chapter 10 Stress and Careers (Yehuda Baruch).
Chapter 11 New Technologies and Stress (Kai-Christoph Hamborg and Siegfried Greif).
Chapter 12 Flexibility at Work in Relation to Employee Health (Töres Theorell).
Chapter 13 Acute Stress at Work (Rolf J. Kleber and Peter G. van der Velden).
Part IV: Supporting Individuals at Work.
Chapter 14 Management Development for Well-Being and Survival: Developing the Whole Person (Rosemary Maellaro and J. Lee Whittington).
Chapter 15 Coaching in Organizations (Helen Williams and Stephen Palmer).
Chapter 16 Women's Coping: Communal Versus Individualistic Orientation (Pamela A. Geller, Stevan E. Hobfoll and Carla Dunahoo).
Chapter 17 Employee Assistance Programs: A Research-Based Primer (Mark Attridge).
Part V: Organizational Approaches to Health and Well-Being.
Chapter 18 Organizational Culture, Leadership, Change and Stress (Manfred Kets de Vries, Laura Guillén Ramo and Konstantin Korotov).
Chapter 19 Building Interventions to Improve Staff Well-Being (Gordon Tinline and Ben Moss).
Chapter 20 Stress and Effectiveness: An Approach for Changing Organizational Culture (Marc J. Schabracq and Iva Smit).
Chapter 21 Epilogue (Cary L. Cooper, James Campbell Quick and Marc J. Schabracq).
Index.
Updated edition of a highly successful handbook
New chapters cover emerging themes in this rapidly growing  field
"Recommended for academic collections, upper-division undergraduate and above, as well as professional libraries." (CHOICE, September 2010)

"This excellent book helps readers understand how difficulties arise in the workplace and focuses on prevention of problems. It is practical, easy to read, and gives recommendations for positive change. The book covers many different topics, both on the individual and organizational level. It ends with encouraging the organization to become healthy, while maximizing profits, productivity, and employee sense of well?]being. The third edition incorporates new research findings and has new contributors who focus on intervention and prevention." (Doody's, June 2010)
Updated edition of a highly successful handbook
Focuses on the applied aspects of work and health psychology
New chapters cover emerging themes in this rapidly growing  field
Prestigious team of editors and contributors