International Libel and Privacy Handbook: A Global Reference for Journalists, Publishers, Webmasters, and Lawyers, 3rd Edition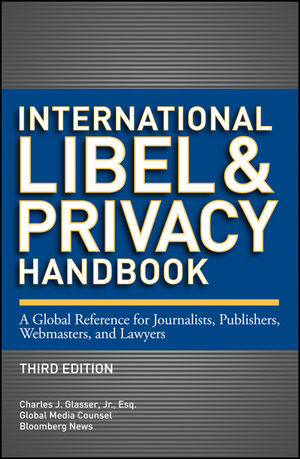 International Libel and Privacy Handbook: A Global Reference for Journalists, Publishers, Webmasters, and Lawyers, 3rd Edition
ISBN: 978-1-118-35705-7
Feb 2013
592 pages
Product not available for purchase
Description
An indispensable survival guide for anyone in the media industry and the lawyers who serve them
Especially now, in an age of instant global access through digital media, it is vitally important that journalists, authors and publishers, as well as the lawyers who serve them, be fully up on the laws governing media, worldwide. The ultimate resource for all the media content providers and purveyors, this fully updated and expanded Third Edition of the critically-acclaimed handbook offers you instant access to relevant libel and privacy laws and important legal rulings in the Europe, Asia, the Middle East and the Americas. It clearly and concisely explains risks publishers should know about prior to publication, steps they can take in order to avoid legal conflicts, and legal defences available to them in the event of a claim.
Offers nation-by-nation summaries of libel and privacy law written by local practitioners in an easy-to-use reference format
Expanded to include coverage of important emerging territories—Mexico, Israel, and Argentina, et al—as well as the latest libel and privacy rulings
Features new chapters on emerging media markets—including Israel, Mexico, Argentina, Jordan, and others—as well as valuable updates to the Middle East section
Provides updates on all major media markets and nations, along with coverage of changes in libel laws in key jurisdictions, including Australia, the UK, Hungary and Germany
Preface: Understanding Media Law in the Global Context ix
Acknowledgments xxi
Introduction: How to Use This Book xxiii
PART I AMERICAS 1
CHAPTER 1 Argentina 3
Leonardo Cesar Ferreira
CHAPTER 2 Brazil 23
Laura Fragomeni, Paula Mena Barreto, and Eduardo de Moraes
CHAPTER 3 Canada 39
Brian MacLeod Rogers
CHAPTER 4 Chile 59
Leonardo Cesar Ferreira
CHAPTER 5 Mexico 81
Leonardo Cesar Ferreira
CHAPTER 6 United States 103
Thomas H. Golden and Casey Boyle
PART II ASIA AND AUSTRALIA 129
CHAPTER 7 Australia 131
Peter Bartlett
CHAPTER 8 China 149
Vincent Wang and Edward J. Davis with Yonatan Berkovits
CHAPTER 9 Hong Kong 183
Doreen Weisenhaus, Rick Glofcheski, and Edward J. Davis
CHAPTER 10 India 211
Janmejay Rai and Barunesh Chandra
CHAPTER 11 Japan 223
Yoshio Iteya, Atsushi Okada, and Akira Marumo
CHAPTER 12 Korea 235
Kyu Ho Youm
CHAPTER 13 Malaysia 253
H. R. Dipendra
CHAPTER 14 Singapore 265
Tay Peng Cheng
CHAPTER 15 Thailand 279
Sinfah Tunsarawuth
PART III EUROPE 295
CHAPTER 16 Belgium 297
Steven De Schrijver
CHAPTER 17 England and Wales 341
Mark Stephens
CHAPTER 18 France 357
Dominique Mondoloni
CHAPTER 19 Germany 371
Jan Hegemann
CHAPTER 20 Italy 385
Charles J. Glasser Jr.
CHAPTER 21 Netherlands 401
Jens van den Brink
CHAPTER 22 Poland 415
Charles J. Glasser Jr.
CHAPTER 23 Russia 427
Anna Otkina
CHAPTER 24 Spain 447
Almudena Arpon de Mendivil and Juan Jose Marin Lopez
CHAPTER 25 Switzerland 459
Rolf Auf der Maur
PART IV MIDDLE EAST 475
CHAPTER 26 The Middle East 477
Charles J. Glasser Jr.
CHAPTER 27 Israel 493
Ori Shenhar
CHAPTER 28 Jordan 505
Safwan Moubaydeen
CHAPTER 29 The United Arab Emirates (UAE) 513
Charles J. Glasser Jr.
Bibliography and Recommended Reading 523
About the Editor 525
About the Contributors 527
Index 537