International M&A, Joint Ventures, and Beyond: Doing the Deal, Workbook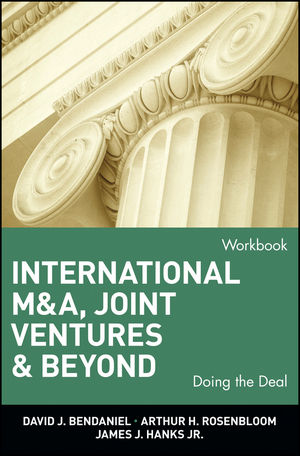 International M&A, Joint Ventures, and Beyond: Doing the Deal, Workbook
ISBN: 978-0-471-02250-3 September 2002 232 Pages
Description
Questions on the Text
Sample Agreements and Forms
Real-World Merger and Acquisition Documents
Supplementary References
International M&A, Joint Ventures, and Beyond provides a graduate- and professional-level course on all aspects and types of international business deals. This accompanying workbook allows you to practice the specialized techniques and strategies associated with becoming a cross-border M&A expert without leaving the comfort of your desk or losing millions of dollars over misunderstood international M&A issues. This workbook?a perfect companion to the actual text?helps familiarize you with the ins and outs of international M&A in today?s business environment.

The International M&A, Joint Ventures, and Beyond Workbook offers practical discussion points that will help further your understanding of cross-border deal making. This indispensable, hands-on companion to International M&A, Joint Ventures, and Beyond: Doing the Deal, Second Edition strengthens your grasp of the most critical aspects of international M&A, with such tools as:
Study questions and answers
Sample agreements and forms
Real-world M&A documents
Case studies
Supplementary references
Put your knowledge of international M&A to the test first, then enter the markets with confidence and make things happen.
Introduction.
Part One: Chapter Questions.
Part Two: Student Outlines of Supplementary Lectures.
Forms of Business Integration.
Types of Buyer.
Why Do Buyers Buy and Why Do Sellers Sell?
Consideration Used in M&A Transactions.
Failure of M&A Transactions to Live Up to Expectations.
The Anatomy of a Merger.
Description of Merger Stages.
Due Diligence.
Due Diligence Checklist.
Cross-Border Transactional Pricing and Structuring.
Project Sand.
Part Three: Agreements and Forms.
Engagement Buy Side.
Engagement Sell Side.
Confidentiality Agreement.
Disclaimer Letter.
Table of Contents of Descriptive Memorandum.
Letter of Intent.
Fairness Opinion.
Bringdown Opinion Letter.
Closing Memorandum.
Part Four: Questions on National Australia Bank Ltd. and Michigan National Corporation Agreement and Plan of Merger.
Part Five: Questions on DaimlerChrysler Merger.
Part Six: Answers to Chapter Questions.
Part Seven: Additional Readings.