International Marketing, 3rd Asia-Pacific Edition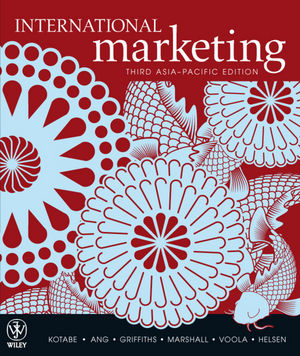 International Marketing, 3rd Asia-Pacific Edition
ISBN: 978-1-742-16603-2
Nov 2010
687 pages
Product not available for purchase
Description
International Marketing, Third Asia-Pacific edition, has been updated to reflect contemporary developments and examples in international marketing. The text retains the strengths of the original Global Marketing Management text by Masaaki Kotabe and Kristiaan Helsen, and is presented in an engaging and accessible style.  International Marketing, Third Asia-Pacific edition, aims to help Australasian students understand contemporary international marketing activities and issues in an increasingly competitive marketplace.


PART 1: International marketing environment.
Chapter 1 Introduction to international marketing.
Chapter 2 Economic and financial environment.
Chapter 3 Political and legal environment.
Chapter 4 Cultural environment.
Chapter 5 Understanding international consumers.
PART 2: Analysing international marketing opportunities.
Chapter 6 International marketing research.
Chapter 7 Segmentation and positioning.
Chapter 8 Market selection and entry strategies.
PART 3: Developing international marketing strategy.
Chapter 9 Developing new goods and services for international markets.
Chapter 10 Marketing products and services.
Chapter 11 International marketing communication.
Chapter 12 Logistics: sourcing and distribution.
Chapter 13 Export and import management.
Chapter 14 International pricing.
PART 4: Trends in global marketing.
Chapter 15 Global marketing strategy.
Chapter 16: The evolving global marketplace.

Part 5: CASE STUDIES.
1 ALDI - Survival of the German Giant?
2 High Tech Stakes at Benitec Ltd.
3 Marketing New Zealand Blackcurrants in Japan.
4 The world's best advertising campaign for the best job in the world?
5 Strasburg Brewing - Exporting Microbrews to Asia.
6 A Taste of Honey.
7 The line between green marketing and green washing.
8 Cross Cultural Research - Adventures with Tyres.
9 UPS: Managing the customer service experience across Asia.
10 The Sustainable Cow - OBE's Organic Beef Export Success.
Glossary.
Index.
All chapters have been revised and updated, and a significant focus is placed on how economic and financial environments have drastically worsened on a global scale.
9 new end-of-book case studies
Updated references and statistics
Part 1: international marketing environment
Part 2: analysing international marketing opportunities
Part 3: Developing International marketing strategy
Part 4: Trends in global marketing
Part 5: Case Studies   
Australasian and Asia-Pacific data, research and examples are used alongside relevant international examples
End of chapter activities include Review Questions, Discussion Questions, and Applied Activities
International spotlight boxes in each chapter serve as mini case studies that highlight international marketing activities in practice. The use of real-world examples of both small to medium-sized enterprises (SMEs) and multinational corporations (MNCs) operating in the Asia-Pacific region provides a strong theoretical and conceptual foundation of international and global marketing perspectives.
End-of-book cases challenge students to analyse current issues faced by international marketers in the Australasian region.