International Real Estate: An Institutional Approach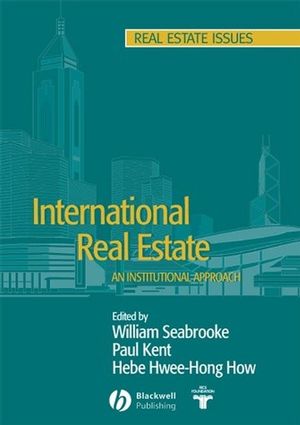 International Real Estate: An Institutional Approach
ISBN: 978-1-405-17263-9 April 2008 Wiley-Blackwell 384 Pages
Description
Real estate activity across national boundaries (investment, development and asset management) is firmly established as a major component of global economic activity.
International Real Estate
provides the understanding of real estate strategies and transactions that cross national boundaries. International organizations lament the narrow perspective of professionals in the real estate field, which stems from training that takes a parochial rather than international view of the practices and processes of real estate markets.
This book takes an explicitly international perspective to the decision-making process leading to final 'accept' or 'reject' investment decisions. It will be the first to adopt an institutional approach that directly addresses the problems of how to identify and avoid the main pitfalls of cross-border investment in real estate. The key to understanding international real estate comes from understanding the impact on investment and management decisions of differences in the formal and informal 'rules of the game'. The authors define the key feature of international real estate as the institutions that frame, facilitate or impede investment in land and buildings across national boundaries.
Table of contents
Contributors ix
Foreword by Jeremy Newsum, Grosvenor Group Holdings xi
Preface xiii
Part 1 Analysis of Real Estate Transactions in Unfamiliar Markets, Using an Institutional Approach 1
1 Real Estate Transactions: an Institutional Perspective 3
William Seabrooke and Hebe Hwee Hong How
The international real estate phenomenon 3
Real estate transactions and transacting 4
Transaction cost concepts 14
A transaction-based approach lends itself to institutional analysis 28
2 Resolving Institutional Uncertainty in International Real Estate Decisions 35
William Seabrooke and Paul Kent
The institutional nature of transactions 35
Real estate transactions 37
A scoping template for 'mapping' the institutional 'landscape' within which a real estate transaction takes shape 55
Conclusion 70
3 An Institutional Analysis of the Subject Matter of Real Estate Transactions 73
Paul Kent
Property rights in institutional analysis 73
Institutional determinants of title to real estate in Hong Kong 76
Institutional determinants of property rights in real estate in the PRC 81
Conclusion 88
Part 2 Evolution of the Institutional Context of International Real Estate 93
4 Local Property Markets and Effective Flexible Market Institutions 96
Michael A. Goldberg
The issues 96
Global forces introduced: an overview 97
Indications of global integration in urban property markets 100
Local, regional and national forces impinging on global cities 102
Globalisation of world city property markets: observations and caveats on volatility 105
Vancouver: an emerging world city facing prototypical issues in the global economy 107
Vancouver's globalised property market: the cycle of the late 1980s 111
Policy issues and fl exible institutional responses for global cities when they are both determinants and outcomes of globalisation 113
Public attitudes to cope with change 115
Possible national government roles in urban policy in a global setting 119
Growing vulnerability of cities in the connected global environment 122
Conclusions 122
5 Facilitation and Constraint: Institutions of Urban Planning in Hong Kong 130
Bo Sin Tang, Sujeet Sharma, Stanley Chi Wai Yeung
Urban planning and development control 133
Planning, politics and economy 144
Conclusions 148
6 Emerging Institutions in Europe 155
Derek C. Nicholls
Historical context 155
Single market 157
Single continent? 160
Implications for real estate markets 168
7 Institutional Aspects of Real Estate Investment and Project Appraisal 173
Eddie Chi Man Hui and Yat Hung Chiang
Institutional aspects 173
Institutional features of project appraisal 186
Role of international funding agencies: the World Bank and the Asian Development Bank 190
Conclusion 193
Part 3 Institutional Aspects of National Real Estate Markets 197
8 US Pension Funds and Real Estate: Still Crazy After
All These Years 200
Bernard Winograd
In the beginning… 201
The end of innocence 204
The cavalry arrives 205
The pension funds react 211
Where do we go from here? 215
9 Real Estate Markets in the United States 220
Mark J. Eppli and Charles C. Tu
The interrelation between the space and capital markets 223
Space markets in the United States 227
Capital markets in the United States 235
The space market/capital market disconnection 245
Summary 259
10 Real Estate Markets in the United Kingdom 262
Andrew Baum
UK real estate: the asset class 262
The sectors: principal characteristics 266
The vehicles available for property investment 269
Commercial property owners 282
Property fund managers and advisers 284
The role of government 288
Conclusion 290
11 Real Estate Markets in Canada 293
C. Tsuriel Somerville
Government institutions and real estate 295
Property rights 299
Land-use regulation 302
Canadian real estate markets 306
Conclusion 321
12 Real Estate Markets in Japan 325
Yu Ichiro Kawaguchi
The Japanese rental market 326
The market for ownership of real estate assets 329
Capital markets 336
Conclusion 339
13 Real Estate Markets in Mainland China 342
Chang Chun Feng and Stanley Chi Wai Yeung
Market structure 342
The reform of urban land-use policy 343
Reform of the urban housing system 347
Relationship between real estate industry and national economic development 352
Long-term development of the real estate market in China 356
Acknowledgement 361
References and further reading 361
Index 363
Reviews
'an important and very valuable contribution to the understanding of the pitfalls and the functioning of foreign real estate markets. International Real Estate - An Institutional Approach is truly inspiring. It is written in a clear and understandable manner and can, without doubt, serve most participants of international real estate markets as a guide or 'handbook' for carrying out or advising on real estate investments in foreign market environments. Recommended to investors, corporate real estate and funds managers or project developers as well as undergraduate and postgraduate students. '
Building Research & Information 2005 33(3)

This book is a wonderful contribution to greater knowledge and I look forward to making much use of it. It may hold the promise of fewer acts of self-destruction in our industry but it is also a fascinating insight into the disconnection between rational analysis and action.'

Jeremy Newsum, Group Chief Executive, Grosvenor Group Holdings
Features
* takes an explicitly international perspective to the decision-making process
* focuses on the globalisation of real estate investment
* introduces a decision-making template for complex development and management