International Relations in a Global Age: A Conceptual Challenge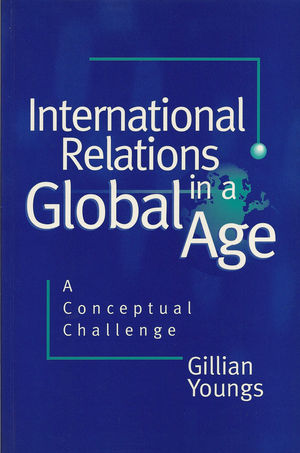 International Relations in a Global Age: A Conceptual Challenge
ISBN: 978-0-745-61371-0
Aug 1999, Polity
176 pages
Description
The book investigates the ways in which state-centred approaches to international relations have limited our understanding of global, political, economic and cultural processes. By assessing a wide range of such state-centred work, Youngs identifies the challenges we must address to grasp the complexity of the contemporary world.
Acknowledgements.
Introduction: From International Relations to Global Relations.
Section 1: Inside State-Centrism.
1. Embedded State-centrism: From Realism to Neorealism.
2. Conceptual Determinism Revealed.
Section II: Beyond State-Centrism.
3. Beyond Superficial Paradigmatism.
4. Beyond the Normative Divide.
Section III: The Spaces of Global Relations.
5. States, Time and Space.
6. Political Economy of Spatiality.
The Conceptual Challenge: Concluding Thoughts.
Notes.
Bibliography.
Index.
'Sophisticated yet accessible, Youngs' book clarifies even as she recasts key debates on the meaning of states and sovereignty. Through a close reading of mainstream and critical theorists, Youngs delivers a consolidated - and compelling - indictment of state-centrism as dogmatically and dangerously out-of-place in the context of global relations. Moreover, through explication of feminist and postcolonial work, Youngs offers important guideposts for mapping new directions in post-statist theory.'
V. Spike Peterson, Department of Political Science, University of Arizona
'One of the real strengths of this book is not only the breadth of questions which it explores, but its integration throughout of feminist modes of analysis . She successfully uses feminist approaches to both foreground and background her analysis - making it a book which will be of interest to the reader looking for feminist critiques of IR, but also to the reader looking to see how feminism fits into the larger array of critical approaches to the study of IR. This is a readable and engaging book which provides a sophisticated critique of state-centrism and a plausible alternative way of thinking about global politics in an age of globalization. It is highly recommended.' The Canadian Journal of Political Science

'The particular strength of Youngs's book is the way it relates the question of spatiality to those of feminist theories of the social ... Youngs's critique of the patriarchal paradigm dominating IR's and IPE's contributions to the debate of globalization is significant and sophisticated.' SIGNS

"This book is an example of what feminism in international relations can be like and what it intends to be." Journal of International Relations and Development
* Analyses traditional debates in international relations and argues that conventional, state-centred approaches to international relations have constrained understanding of global political, economic and cultural processes.
* Puts forward a new approach which takes account of contemporary global relations.
* Establishes a critical basis for thinking about globalization which will have a multidisciplinary appeal.