International Review of Industrial and Organizational Psychology 1991, Volume 6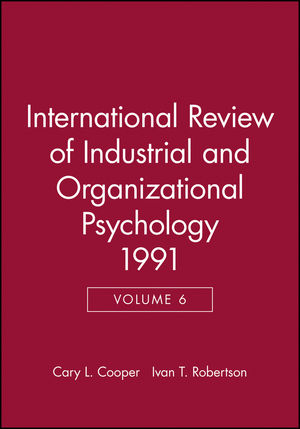 International Review of Industrial and Organizational Psychology 1991, Volume 6
ISBN: 978-0-471-92819-5
Aug 1991
412 pages
Description
Composed of a series of annual volumes, it offers state-of-the-art reviews in the field of industrial and organizational psychology. Topics include psychological aspects of major organizational restructuring; methodological issues in personnel selection research; health, well-being and working women; measuring performance; the role of industrial and organizational psychology in developing countries and more. A sizable list of key references is also provided.
Recent Developments in Industrial and Organizational Psychology in People's Republic of China (Z. Wang).

Mediated Communication and New Organizational Forms (J. Andriessen).

Performance Measurement: A Multi-Discipline View (D. Ilgen & J. Schneider).

Ergonomics: Trends and Influences (E. Megaw).

Aging and Work (D. Davies, et al.).

Methodological Issues in Personnel Selection Research (H. Schuler & A. Guldin).

Mental Health Counseling in Industry (N. Swanson, et al.).

Person-Job Fit: A Conceptual Integration, Literature Review, and Methodological Critique (J. Edwards).

Job Satisfaction: Dispositional and Situational Influences (R. Arvey, et al.).

Index.