International Review of Industrial and Organizational Psychology 1995, Volume 10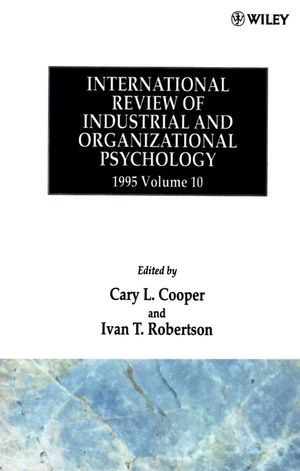 International Review of Industrial and Organizational Psychology 1995, Volume 10
ISBN: 978-0-471-95241-1
Feb 1995
384 pages
Description
Organizational psychology is concerned with the world of work and training, specifically the functioning of organizations and how people and groups behave. Provides self-contained, state-of-the-art reviews of topics of current concern and significant new developments in the field. Tenth in a series of annual volumes which provide authoritative reviews in the field of industrial and organizational psychology. The chapters are ""stand alone"" reviews of important existing and new topics within the organizational psychology field.
The Application of Cognitive Constructs and Principles to the Instructional Systems Model of Training: Implications for Needs Assessment, Design, and Transfer (J. Ford & K. Kraiger).

Determinants of Human Performance in Organizational Settings (A. Smith).

Personality and Industrial/Organizational Psychology (R. Schneider & L. Hough).

Managing Diversity: New Broom or Old Hat?

(R. Kandola).

Unemployment: Its Psychological Costs (A. Winefield).

VDUs in the Workplace: Psychological and Health Implications (R. Bramwell & C. Cooper).

The Organizational Implications of Teleworking (A. Chapman, et al.).

The Nature and Effects of Method Variance in Organizational Research (P. Spector & M. Brannick).

Developments in Eastern Europe and Work and Organizational Psychology (R. Roe).

Index.

Contents of Previous Volumes.