International Review of Industrial and Organizational Psychology 1996, Volume 11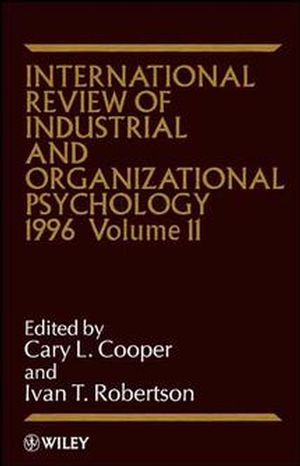 International Review of Industrial and Organizational Psychology 1996, Volume 11
ISBN: 978-0-471-96111-6
Jul 1997
332 pages
Description
This is the eleventh in a series of annual volumes which provide authoritative reviews in the field of Industrial and Organizational Psychology. The chapters are written by established experts and the topics are carefully chosen to reflect the major concerns in the research literature and in current practice. Each chapter offers a comprehensive and critical survey of a chosen topic, and is supported by a valuable bibliography. Topics for future volumes in the series will be selected for their importance and relevance at that time, so that the series will be the main authoritative and current guide to important areas and developments in the field of Industrial and Organizational Psychology, for professional psychologists, managers and scholors.
Self-Esteem and Work (E. Locke, et al.).

Job Design (G. Oldham).

Fairness in the Assessment Centre (H. Baron & K. Janman).

Subgroup Differences Associated with Different Measures of Some Common Job- Relevant Constructs (N. Schmitt, et al.).

Common Practices in Structural Equation Modeling (E. Kelloway).

Contextualism in Context (R. Payne).

Employee Involvement (J. Cotton).

Part-Time Employment (J. Barling & D. Gallagher).

The Interface Between Job and Off-Job Roles: Enhancement and Conflict (M. O'Driscoll).

Index.

Contents of Previous Volumes.