International Review of Industrial and Organizational Psychology 1997, Volume 12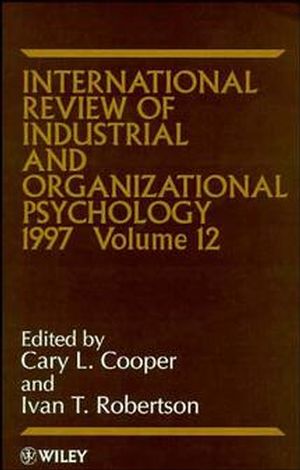 International Review of Industrial and Organizational Psychology 1997, Volume 12
ISBN: 978-0-471-97004-0
Apr 1997
422 pages
Description
This is the twelfth in a series of annual volumes which provide authoritative reviews in the field of Industrial and Organizational Psychology. The chapters are written by established experts and the topics are carefully chosen to reflect the major concerns in the research literature and in current practice. Each chapter offers a comprehensive and critical survey of a chosen topic, and is supported by a valuable bibliography. Topics for future volumes in the series will be selected for their importance and relevance at that time, so that the series will be the main authoritative and current guide to important areas and developments in the field of Industrial and Organizational Psychology, for professional psychologists, managers and scholars. Contributors to Volume 12 John Arnold Thomas J. Bouchard, Jr Russell Cropanzano Gordon Foxall Jerald Greenberg Michael M. Harris Gary Johns Elchanan I. Meir John P. Meyer Phyllis Tharenou Michael L. Trusty Aharon Tziner Business
The Psychology of Careers in Organizations (J. Arnold).
Managerial Career Advancement (P. Tharenou).
Work Adjustment: Extension of the Theoretical Framework (A. Tziner E. Meir).
Contemporary Research on Absence from Work: Correlates, Causes and Consequences (G. Johns).
Organizational Commitment (J. Meyer).
The Explanation of Consumer Behaviour: Form Social Cognition to Environmental Control (G. Foxall).
Drug and Alcohol Programs in the Workplace: A Review of Recent Literature (M. Harris M. Trusty).
Progress in Organizational Justice: Tunneling Through the Maze (R. Cropanzano J. Greenberg).
Genetic Influence on Mental Abilities, Personality, Vocational Interests and Work Attitudes (T. Bouchard).
Index.
Contents of Previous Volumes.