International Review of Industrial and Organizational Psychology 1999, Volume 14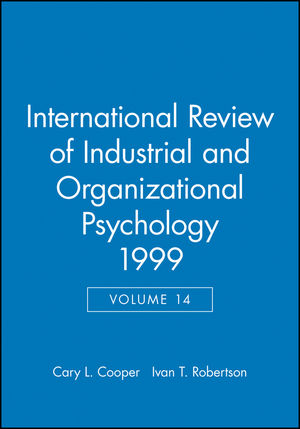 International Review of Industrial and Organizational Psychology 1999, Volume 14
ISBN: 978-0-470-84272-0
Dec 2001
440 pages
Description
The fourteenth in a series of annual volumes that provides authoritative reviews in the field of industrial and organizational psychology, this volume provides coverage of emergent issues such as personnel selection methods, system safety and control, well-being in the workplace, and more. The issue of work performance is given particular attention in this volume with chapters on work performance, organizational citizenship, and conflict and performance in groups and organizations.
Personnel Selection Methods (J. Salgado).

System Safety--An Emerging Field for I/O Psychology (B. Fahlbruch & B. Wilpert).

Work Control and Employee Well-being: A Decade Review (D. Terry & N. Jimmieson).

Multi-source Feedback Systems: A Research Perspective (C. Fletcher & C. Baldry).

Workplace Bullying (H. Hoel, et al.).

Work Performance: A Multiple Regulation Perspective (R. Roe).

A New Kind of Performance for Industrial and Organizational Psychology: Recent Contributions to the Study of Organizational Citizenship Behavior (D. Organ & J. Paine).

Conflict and Performance in Groups and Organizations (C. De Dreu, et al.).

Index.

Contents of Previous Volumes.