International Review of Industrial and Organizational Psychology 2007, Volume 22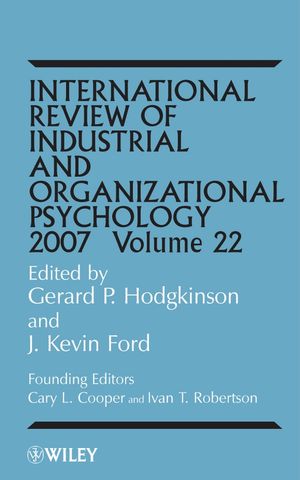 International Review of Industrial and Organizational Psychology 2007, Volume 22
ISBN: 978-0-470-75337-8
Jan 2008
324 pages
Description
This is the twenty-second in the most prestigious series of annual volumes in the field of industrial and organizational psychology. The series provides authoritative and integrative reviews of the key literature of industrial psychology and organizational behaviour. The chapters are written by established experts and topics are carefully chosen to reflect the major concerns in both the research literature and in current practice.

As in previous works in the series, this twenty-second volume provides scholarly, up to the minute reviews and updates of theory and research, covering developments across a wide range of established areas and emerging issues, including: socialization in organizational contexts, assessing the costs and benefits of human resources, strategies for reducing work-family conflict, coping research and measurement in the context of work related stress, and conducting applied research in a changing world of work. Each chapter offers a comprehensive and critical survey of the chosen topic, and each is supported by a valuable bibliography. For advanced students, academics and researchers, as well as professional psychologists and managers, this remains the most authoritative and current guide to new developments and established knowledge in the field of industrial and organizational psychology.
About the Editors.
List of Contributors.
Editorial Foreword.
1. Socialization in Organizational Contexts (Blake E. Ashforth, David M. Sluss and Spencer H. Harrison).
2. The Costs – and Benefits – of Human Resources
Wayne F. Cascio
3. Strategies for Reducing Work-Family Conflict: Applying Research and Best Practices from Industrial and Organizational Psychology. (Debra A. Major and Jeanette N. Cleveland).
4. Coping Research and Measurement in the Context of Work Related Stress (Philip Dewe and Cary L. Cooper).
5. Organizational Learning (Linda Argote and Gergana Todorova).
6. Cultural Variations in Individual Job Performance: Implications for Industrial and Organizational Psychology in the 21st Century (Rabi S. Bhagat, James R. Van Scooter, Pamela K. Stevenson and Karen South Moustafa).
7. Conducting Meaningful Research in a Fast-paced and Volatile World of Work: Challenges and Opportunities (Anne Marie Ryan and Elaine D. Pulakos).
Index.
Contents of Previous Volumes.