International Review of Industrial and Organizational Psychology 2008, Volume 23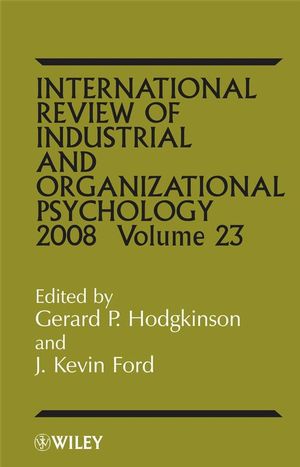 International Review of Industrial and Organizational Psychology 2008, Volume 23
ISBN: 978-0-470-72507-8 April 2008 336 Pages
Description
Now in its 23rd year, the International Review of Industrial and Organizational Psychology has attracted contributions from leading researchers and produced many citation classics. Each volume is a state-of-the-art overview of topics spanning the full spectrum of I/O psychology and 2008 is no exception. Areas covered include leadership development, the psychology of careers, employee recruitment, health promotion in the workplace, and politics at work.  Each chapter is supported by a valuable bibliography. For advanced students, academics, researchers and professionals this remains the most current and authoritative guide to new developments and established knowledge in the field.
About the Editors.
Contributors.
Editorial Foreword.
1. The Psychology of Careers in Industrial and Organizational Settings: A Critical but Appreciative Analysis (John Arnold and Laurie Cohen)
2. Employee recruitment: Current Knowledge and Directions for Future research (James A. Breaugh, Therese H. Macan, and Dana M. Grambow)
3. Age and Learning in Organizations (Margaret E. Beier)
4. The Good, the Bad and the Ugly: Politics and Politicians at Work (Jo Silvester)
5. Building Better Workplaces through Individual Perspective taking: A Fresh Look at a Fundamental Human Process (Sharon K. Parker, Paul W.B. Atkins, and Carolyn M. Axtell)
6. The Dawning of a New Era for Genuine Leadership Development (Bruce J. Avolio and Adrian Chan)
7. Health Protection and Promoting in the Workplace: A review and Application of Vale and Regulatory Focus Perspectives (Lois E. Tetrick and Michael T. Ford)
8. Personality as a Predictor of Work-Related behavior and Performance: Recent Advances and Directions for Future Research (Giles St. J. Burch and Neil Anderson)
Index.
Contents of Previous Volumes.