International Review of Industrial and Organizational Psychology 2009, Volume 24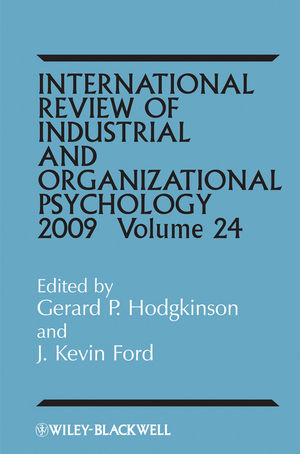 International Review of Industrial and Organizational Psychology 2009, Volume 24
ISBN: 978-0-470-74525-0
Apr 2009
342 pages
Description
The 24th volume in this prestigious series of annual volumes, the International Review of Industrial and Organizational Psychology 2009 includes scholarly, thoroughly researched, and state-of-the-art overviews of developments across a wide range of topics in industrial and organizational psychology. An international team of highly respected contributors reviews the latest research and issues in the field with eight chapters supported by extensive bibliographies. This volume is ideal for organizational psychologists, MSc level students in organizational psychology, and researchers seeking literature on current practice in industrial and organizational psychology.
About the Editors.
Contributors.
Editorial Foreword.
1. Conceptualizing and Measuring Intuition: A Review of Recent Trends (Erik Dane and Michael G. Pratt).
2. Transfer of Training 1988-2008: An Updated Review and Agenda for Future Research (Timothy T. Baldwin, J. Kevin Ford, and Brian D. Blume).
3. Fifty Years of Psychological Contract Research: What Do We Know and What are the Main Challenges (Neil Conway and Rob B. Briner)?
4. Security in Organizations: Expanding the Frontier of Industrial-Organizational Psychology (Edward G. Bitzer, III, Peter Y. Chen, and Roger G. Johnston).
5. Sensemaking in Virtual Teams: The Impact of Emotions and Support Tools on Team Mental Models and Team Performance (Anat Rafaeli, Shy Ravid, and Arik Cheshin).
6. Team Performance in Dynamic Task Environments (Verlin B. Hinsz, Dana M. Wallace, and Jared L. Ladbury).
7. Clarifying the Notion of Self-Regulation in Organizational Behavior (Richard P. DeShon and Tara A. Rench).
8. Individual Differences and Decision Making: What We Know and Where We Go From Here (Susan Mohammed and Alexander Schwall).
Index.
Contents of Previous Volumes.