International Textbook of Obesity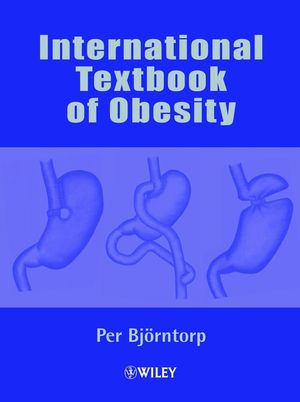 International Textbook of Obesity
ISBN: 978-0-470-85200-2 June 2003 558 Pages
Description
The prevalence of obesity has now reached such proportions that in many parts of the world it is one of the most dominant health problems. Obesity leads to a number of serious diseases such as type 2 diabetes, cardiovascular disease, hypertension, stroke and cancer as well as psychological problems and a poor quality of life. Obesity research is now very active and understanding of the disease has greatly increased. The International Textbook of Obesity offers a definitive coverage of the area looking at epidemiology, causes, current research and management.
* Gives an up to date account of the field
* Edited by a leading expert in the area
* Contributions from an impressive array of authors including many from young researchers giving new perspectives on the issues
This will be a lasting reference for a wide range of academic and professional health care workers, including obesity research specialists, diebetologists, nutritionists, practising physicians and endocrinologists.
Table of contents
List of Contributors.
Preface.
EPIDEMIOLOGY.
Obesity as a Global Problem (V. Antipatis & T. Gill).
The Epidemiology of Obesity (J. Seidell).
Body Weight, Body Composition and Longevity (D. Allison, et al.).
DIAGNOSIS.
Anthropometric Indices of Obesity and Regional Distribution of Fat Depots (T. Han & M. Lean).
Screening the Population (B. Lindahl).
Evaluation of Human Adiposity (S. Heymsfield, et al.).
APPETITE REGULATION AND OBESITY PREVENTION.
Role of Neuropeptides and Leptin in Food Intake and Obesity (B. Jeanrenaud & F. Rohner-Jeanrenaud).
Regulation of Appetite and the Management of Obesity (J. Blundell).
Physiological Regulation of Macronutrient Balance (S. Jebb & A. Prentice).
Fat in the Diet and Obesity (B. Heitmann & L. Lissner).
Energy Expenditure at Rest and During Exercise (B. Ekblom).
Exercise and Macronutient Balance (A. Tremblay & J.-P. Després).
PATHOGENESIS AND TYPES OF OBESITY
The Specificity of Adipose Depots (C. Pond).
Causes of Obesity and Consequences of Obesity Prevention in Non-human Primates and Other Animal Models (B. Hansen).
Social Status, Social Stress and Fat Distribution in Primates (C. Shively & J. Wallace).
Centralization of Body Fat (P. Björntorp).
Obesity and Hormonal Abnormalities (R. Pasquali & V. Vicennati).
Cortisol Metabolism (B. Walker & J. Seckl).
Drug-induced Obesity (L. Breum & M. Fernstrom).
Pregnancy (H. Harris).
Social and Cultural Influences on Obesity (J. Sobal).
Cessation of Smoking and Body Weight (K. Ward, et al.).
COMPLICATIONS.
Visceral Obesity and the Metabolic Syndrome (R. Rosmond).
Obesity and Type 2 Diabetes Mellitus (A. Hodge, et al.).
Cardiovascular Disease (A. Tiengo & A. Avogaro).
Obesity, Overweight and Human Cancer (M. Hill).
Pulmonary Diseases (Including Sleep Apnoea and Pickwickian Syndrome) (T. Robinson & R. Grunstein).
Obesity and Gallstones (S. Heshka & S. Heymsfield).
MANAGEMENT.
Health Benefits and Risks of Weight Loss (L. Khaodhiar & G. Blackburn).
Treatment: Diet (S. Rössner).
Recent and Future Drugs for the Treatment of Obesity (L. van Gaal, et al.).
Treatment: Hormones (B. Andersson, et al.).
Why Quality of Life Measures Should Be Used in the Treatment of Patients with Obesity (M. Sullivan, et al.).
Surgical Treatment of Obesity (J. Kral).
Swedish Obese Subjects, SOS (L. Sjöström).
Index.
Reviews
"The layout is good, the chapters easy to read and the editor did an excellent work in order to give an up-to-date view of this field with perspectives for further research" (Int. Jnl of Adolescent Medicine & Health)
"A very comprehensive and useful text." (Jnl of Pediatric Endocrinology & Metabolism, Vol.15 No.3 2002)
"...A very comprehensive and useful text..." (The Journal of Endocrine Genetics, Vol.1. No.1. 2002)
"...It will be of interest and use to everyone concerned in researching and managing obesity..." (Behaviour Research & Therapy, No.40, 2002)