International Trade: An Introduction to Theory and Policy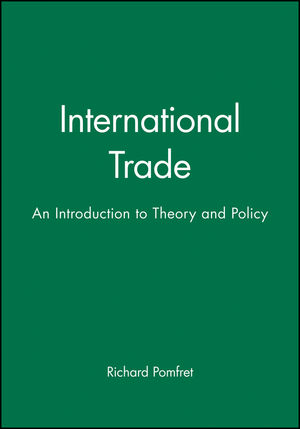 International Trade: An Introduction to Theory and Policy
ISBN: 978-1-557-86105-4 August 1991 Wiley-Blackwell 292 Pages
Description
This book provides an introduction to the economic analysis of international trade policies, focussing on the effects of various policies and using this positive analysis both to determine which trade policies should be adopted and to explain why existing policies have been adopted.
Table of contents
Preface.
1. Introduction.
Part I: Modelling International Trade:.
2. Why do countries trade with each other?.
3. A General Equilibrium Model of International Trade.
4. A Partial Equilibrium Model of International Trade.
5. The Core Propositions of Neoclassical Trade Theory.
Part II: Extensions and Modifications to the Basic Model:.
6. Empirical Tests of Simple Trade Theories.
7. Technology-based Trade Theories.
8. Economies of Scale, Imperfect Competition, and Intra-Industry Trade.
9 Intermission.
Part III: Trade Policies:.
10. Economic Effects of a Tariff.
11. Non-Tariff Barriers to Trade.
12. Arguments used in support of Trade Barriers.
13. Measuring the Effects of Trade Barriers.
14. The Political Economy of Trade Barriers.
15. Discriminatory Trade Policies.
16. International Trade and Economic Development.
Part IV: Beyond Pure Trade Theory:.
17. International Factor Movements, Trade in Services, and the BOP.
18. Trade Policy when the BOP is in Disequilibrium.
19. Exchange Rate Movements and International Trade.
20. Conclusions.
References.
Index.
What's New
* The book is accessible to students with a fairly rudimentary background i n economic principles.
* The book concentrates exclusively on trade issues, and particularly on trade policy.
* The book is up to date and examines crucial, international issues.