International Trade and British Economic Growth: From the Eighteenth Century to the Present Day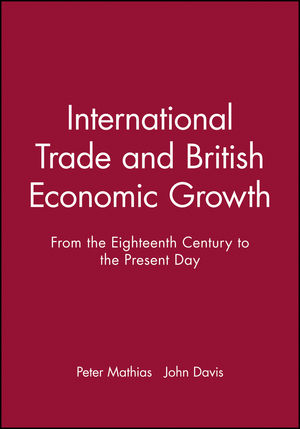 International Trade and British Economic Growth: From the Eighteenth Century to the Present Day
ISBN: 978-0-631-18116-3
Jul 1997
180 pages
Description
This book explores the relationship between international trade and domestic economic growth in Britain since the eighteenth century. It was during this time that Britain enjoyed first a dominant role in world trade and then, from the outbreak of the First World War, saw its economic strength eclipsed by other emerging international powers. The essays here focus on two central concerns in the history of British economic development in the period; was overseas and colonial trade in the eighteenth century the principal motor of British industrial development? Has the structure of Britain's overseas trade in the twentieth century been one of the factors contributing to the "decline of the British industrial economy"?
Introduction.
1. Atlantic Trade and British Economic Growth in the Eighteenth Century: Kenneth Morgan (Brunel University College).
2. British Trade and European Economic Development 1750-1850: Sidney Pollard (University of Sheffield and Bielefeld).
3. Nineteenth Century Ocean Trade and Transport: Peter Davies (University of Liverpool).
4. Exports and British Economic Growth (1850-1914): Charles Fainstein (All Souls College, Oxford).
5. Trade Policy and Growth: Some European Experiences (1850-1940): Forrest Capie (City University Business School).
6. British Trade with Latin America (1870-1950): Rory Miller (University of Liverpool).
7. Imperial Power and Foreign Trade: Britain and India (1900-1970): B. R. Tomlinson (University of Strathclyde).
Notes and Bibliographies.
Index.
List of Contributors.
* Examines complex and much-studied relationship between foreign trade and domestic growth.
* Exposes the limitations of demand-led vs. supply-side theories in economic interpretation.
* Provides perspective on a key period of British economy supremacy and its demise.