International Travel and Tourism, 2nd Edition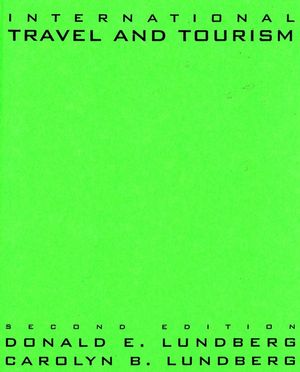 International Travel and Tourism, 2nd Edition
ISBN: 978-0-471-53146-3
May 1993
480 pages
Description
Describes where and how Americans travel abroad. Analyzes American travel and relates this information to tourism and travel operations. In this revised edition there are new chapters which cover international air travel and hotelkeeping, air safety and the travel agent. There is also an up-to-date overview of the international travel business included in a new introductory chapter.
MARKETERS, FACILITATORS, AND SUPPLIERS.

Travel Facilitators and Destination Marketers.

International Ground and Sea Travel.

International Air Travel.

Hotels and International Travel.

TRAVEL DESTINATIONS BY REGION.

Canada and Alaska.

Latin America.

The Caribbean.

Western Europe.

Eastern and Central Europe.

Russia, Turkey, and the Middle East.

Africa.

South and Southeast Asia.

East Asia.

Hawaii and Oceania.

TRAVEL SAFETY.

Security and Health Concerns.

Appendix.

Index.