Internet Management for Nonprofits: Strategies, Tools and Trade Secrets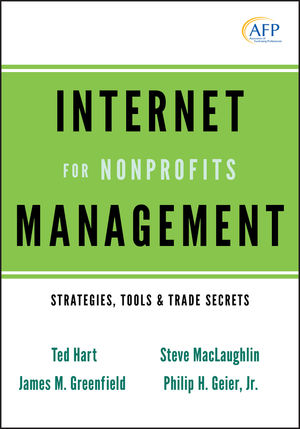 Internet Management for Nonprofits: Strategies, Tools and Trade Secrets
ISBN: 978-0-470-63744-9
Apr 2010
432 pages
Description
The essential guide for nonprofits wanting to manage their Internet applications in a coordinated, cost-effective, and efficient manner
The rapid onset of increasingly advanced and complex technologies has challenged nonprofits to invest with their sparse resources in attempting, and failing, to keep pace with for-profit companies, with the result that most now cannot compete with new commercial products and commercial applications. Nonprofit Internet Management reveals how current technologies can be utilized in full measure most effectively by nonprofits and addresses how to manage various applications for maximum benefit to internal operations and community service.
Covers management models, social networking information, case studies, fundraising strategies, collaboration and coordination examples, and sample communications techniques
Includes chapters written by leading Internet professionals
In-depth discussion of Website design, technology trends, social networks, managing the organization using online tools, E-governance and board leadership, prospect research and donor modeling, volunteer recruitment and management, mobile technology, stewardship and relationship management, and green technology applications
Filled with case studies, Nonprofit Internet Management also includes screenshots, tables, worksheets and checklists. It's an essential resource for every nonprofit organization operating in our modern wired world.
Introduction: A Primer for Board Members and Nonprofit Executives (
Ted Hart
).
About the Editors.
PART I Effective Management and Leadership Tools.
CHAPTER 1 The ROI of Social Media (Beth Kanter).
CHAPTER 2 Path to Managing Your Organization Using Online Tools (Michael Sola and Tim Kobosko).
CHAPTER 3 E-governance Is Good Governance (Dottie Schindlinger and Leanne Bergey).
CHAPTER 4 Social Collaboration and Productivity (Russell M. Artzt, John Murcott, and Mark Fasciano).
CHAPTER 5 Insight Tools for Surviving and Thriving (Roger M. Craver and Ryann Miller).
CHAPTER 6 Demystifying Online Metrics (Steve MacLaughlin).
PART II Managing Fundraising and Building Communities Online.
CHAPTER 7 Managing Fundraising and Building Communities Online (Adrienne D. Capps).
CHAPTER 8 The Nonprofit Leader's Volunteer Recruitment and Retention Strategies (Walter P. Pidgeon Jr.).
APPENDIX 8A Highlights of America's Philanthropic and Volunteering Heritage.
APPENDIX 8B Creative Marketing Example.
CHAPTER 9 How Successful Are Your Social Media Efforts? (Danielle Brigida and Jonathon D. Colman).
CHAPTER 10 Social "Trysumers" (Marcelo Iniarra Iraegui and Alfredo Botti).
CHAPTER 11 Social Networks (Philip King).
CHAPTER 12 Prospect Modeling, Prospect Research (Lawrence C. Henze).
CHAPTER 13 No Borders (Andrew Mosawi and Anita Yuen).
PART III Making Technology Work for Your Organization.
CHAPTER 14 Effective Web Design (Allan Pressel).
CHAPTER 15 Multichannel Fundraising (Michael Johnston and Matthew Barr).
APPENDIX 15A Competency Profile of a Manager or Director of Integrated Fundraising.
CHAPTER 16 12 Steps to Protect Your Organization and Donors from Fraud and Identity Theft (Catherine N. Pagliaro).
CHAPTER 17 Mobile Technology (Ben Rigby).
CASE STUDY Transforming Activists into Donors--Nicolas Hulot Foundation Case Study (Frédéric Fournier).
Notes.
AFP Code of Ethical Principles and Standards.
A Donor Bill of Rights.
Index.
"Just as "Internet Management for Nonprofits" advises its readers to do, the book is available via different channels - including Kindle, online, e-mail updates and hardcover - and takes on the appropriate identity in each. Lead editor Ted Hart says the three-part book covers topics ranging from digital fundraising to how the Internet can make non-profit management easier. Chapter one starts off with one of the more controversial topics in marketing today "The ROI of Social Media", and gets more intense from there, delving into online security, multichannel fundraising and Web analytics. And those are just a few of the chapters." (Fundraising Success Magazine, September 2010)