Internet Marketing , 3rd Edition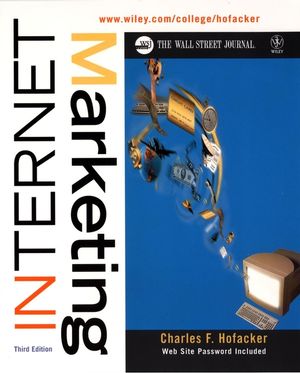 Internet Marketing , 3rd Edition
ISBN: 978-0-471-39051-0
Jun 2000
176 pages
Description
In the past few years the Internet has gone through several phases, from obscurity through hype, all the way to being a simple fact of life today. Almost as soon as the Internet was privatized, marketers staked their turf and sought to use the medium to further the goals of their firms in various ways. While there are numerous books on the subject of marketing using the Internet, all tend to be practitioner-oriented and focus solely on computer nuts and bolts. Internet Marketing discusses many of those same nuts and bolts, but places them in the context of marketing strategy, consumer behavior, advertising, and the other business topics that make marketing different than computer programming.
The printed textbook is really just one-half of the materials for this course--the other half being a companion Web site which is also a critical component. The text and the associated Web site have been designed from the start to complement each other. While some books have supporting Web sites, the site and this book play a nearly-equal role in the case of Internet Marketing. The textbook most efficiently teaches the key concepts and provides a serial narrative on the topic. The interactivity of the Internet, on the other hand, makes it ideal for providing student activities of various sorts such as hypertext cases and homework questions. The Internet is also unsurpassed in its ability to point students to live examples of the main points. The dynamic nature and timeliness of online publishing makes it perfect for producing pointers to current events that relate to class materials.
INTRODUCTION TO MARKETING ON THE INTERNET.

Categories of Internet Marketing.

What Exactly Is the Internet.

Web Browser Software.

COMMUNICATING WITH CONSUMERS ONLINE.

Using the Internet to Communicate.

How to Create a Web Page.

Web Communications Strategy.

Human Information Processing of Web Sites.

What a Web Site Should Look Like.

Web Site Copy.

Advertising Banners.

COMPUTER-MEDIATED SELLING.

Shopping on the Internet.

Business-to-Business Internet Marketing.

Online Selling Strategies.

The Mechanics of Electronic Commerce.

PROVIDING WEB CONTENT.

The Content Site Visitor.

Strategies for Providing Content.

Legal and Ethical Issues.

Web Log Data.

NEW FUNCTIONS, NEW BUSINESSES.

The Digital Future.

Glossary.

Index.
"The style has much to recommend in terms of price and accessibility. There is much useful, practical content that is not emphasised in other texts. The book is essential reading for those delivering internet marketing modules." (Times Higher Educational Supplement, 2nd March 2001)
Flexibility of Course Content. Instructors will vary in terms of how much Internet coverage they will include in a course. This book is designed to let the instructor add as little or as much of the Internet component as he or she feels comfortable including. Wherever possible, the technical details of networked computing have been segregated to allow the instructor to omit them if desired.
Order of concept presentation. This book is arranged into five sections. The first section provides an introduction to the Internet. Subsequent sections focus on communication, selling, content development and creation, and providing network functionality. The final section serves as a catch-all for several miscellaneous topics.
Chapter Learning Objectives serve as study objectives and create a framework for the chapter summary.
Chapter Summaries are closely tied to chapter content and learning objectives.
The Web Companion is organized by chapter and features the following components:

Chapter Summaries
Examples
Hypertext Cases
Homework Assignments
Text material updates