Interpreting Company Reports For Dummies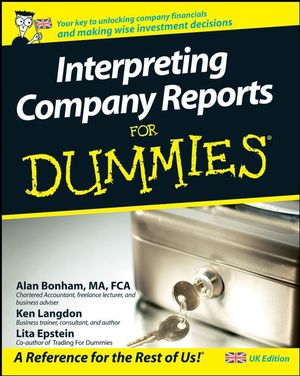 Interpreting Company Reports For Dummies
ISBN: 978-1-119-99787-0
Feb 2011
402 pages
Description
Company financial reports are a key resource for investors, helping them uncover priceless information about a company's profitability, or lack thereof, from the figures as well as through other non-monetary indicators. Details of lawsuits, changes in accounting methods, liquidations, and mergers and acquisitions can all be ways of detecting red flags if you know where to look.

However the jargon and financial footnotes in financial reports can be difficult to decipher, and this For Dummies guide on the subject will help readers to understand company reports and make sensible investment choices based on publicly held information.

Taking you step-by-step through the finer points of financial reports, this straightforward guide will help you get to grips with the most accurate way to wade through the numbers, judge a company's performance, and make profitable investment decisions.

This UK Adaptation focuses on the UK financial market, with the FTSE index as the focus of the book.
Introduction.
Part I: Getting Down to Financial Reporting Basics.
Chapter 1: Discovering What Reports Reveal.
Chapter 2: Recognising Different Business Types.
Chapter 3: Discovering How Company Structure Affects the Books.
Chapter 4: Digging into Accounting Basics.
Part II: Understanding Published Information: Annual Reports.
Chapter 5: Exploring the Anatomy of an Annual Report.
Chapter 6: Balancing Assets Against Liabilities and Equity.
Chapter 7: Using the Income Statement.
Chapter 8: The Statement of Cash Flows.
Chapter 9: Scouring the Notes to the Financial Statements.
Chapter 10: Considering Consolidated Financial Statements.
Part III: Analysing the Numbers.
Chapter 11: Testing the Profits and Market Value.
Chapter 12: Looking at Liquidity.
Chapter 13: Making Sure the Company Has Cash to Carry On.
Part IV: Understanding How Companies Optimise Operations.
Chapter 14: Using Basic Budgeting.
Chapter 15: Turning Up Clues in Turnover and Assets.
Chapter 16: Examining Cash Inflow and Outflow.
Chapter 17: How Companies Keep the Cash Flowing.
Part V: The Many Ways Companies Answer to Stakeholders.
Chapter 18: Finding Out How Companies Find Errors: The Auditing Process.
Chapter 19: Checking Out the Analyst–Company Connection.
Chapter 20: How Companies Soothe the Shareholders.
Chapter 21: Keeping Score When Companies Play Games with Numbers.
Part VI: The Part of Tens.
Chapter 22: Ten Financial Crises That Rocked the World.
Chapter 23: Ten Signs That a Company's in Trouble.
Chapter 24: Ten Top-Notch Online Resources.
Part VII: Appendixes.
Appendix A: Financial Statements.
Appendix B: Glossary.
Index.
""…a guide to help you get to grips with financial reports, judge a company's performance and make profitable investment decisions."" (The Daily Telegraph, Tues 11th March)