Interpreting Trauma Radiographs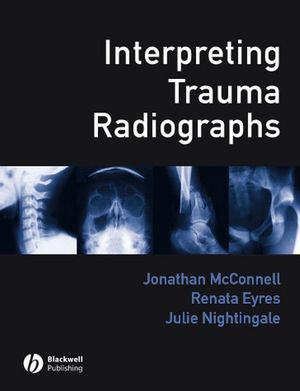 Interpreting Trauma Radiographs
ISBN: 978-1-405-11534-6
Aug 2005, Wiley-Blackwell
298 pages
Description
As advanced practices and role extension within the healthcare sector continues unabated, increasingly practitioners seek ways to widen their professional remit and develop and add to their skills. Interpreting Trauma Radiographs provides a unique guide to enable radiographers and trained healthcare professionals to confidently and competently interpret and report on radiographic images. Designed specifically for radiographers, casualty (accident and emergency) medical officers and trainees, and other health professionals who regularly encounter trauma radiography as part of their work, this book brings together expert contributions on the clinical, medical, legal and scientific aspects of radiographic interpretation and reporting, promoting a thorough understanding of both the general framework of reporting and the detail of image interpretation.





The book is divided into two sections. The first section deals with the overall framework of image reporting and interpretation: the radiologist's perspective, the legal aspects, scientific background and the psychological nature of perception and interpretation. The second section focuses on image interpretation of regional anatomy, presented to support both reporting practitioners in training and those more experienced in reporting practice.


Interpreting Trauma Radiographs is an invaluable companion for qualified radiographers, radiographers in training, casualty medical officers, and other healthcare professionals, such as nurse practitioners, aspiring to interpret and report on radiographic images.
1. Introduction.
Section 1.
2. A Radiologist's Perspective.
3. Legal Aspects Arising in the Reporting of X-rays.
4. Uncertainty and Bias in Decision Making.
5. Pattern Recognition.
6. Anatomy, Physiology and Pathology of the Skeletal System.
Section 2.
7. Skeletal Trauma of the Upper Limb.
8. Skeletal Trauma of the Lower Limb.
9. The Spine.
10. Pelvic Fractures.
11. Chest Trauma.
12. The Skull and Face.
Appendices.
Index
"Having spent nearly 100 years preventing non-medical staff from reporting radiographs, a significant part of the radiological profession, facing with the spiralling radiological workload, is beginning to think otherwise. This book provides an invaluable companion for those who would come around to this 'new' concept.
This text is a valuable source of information for the following professional groups. Radiographers experienced in skeletal reporting or undertaking 'red dot' reporting and those training for these roles; medical practitioners, in particular casualty residents who work in emergency departments; physiotherapists and other professional groups who have an interest in musculo-skeletal trauma and pathology. Finally, I would recommend that this book be available on the shelves of imaging departments' libraries for it will greatly help the specialist registrars in radiology. Section one would be particularly read with benefit by the latter."
Paediatric Radiology, 2006


Index of trauma and pathological conditions for quick reference

Appendix on measuring performance

Helpful references and suggestions for further reading

Self-assessment tools to support continued learning and development of report writing skills