Intersections of Faith and Development in Local and Global Contexts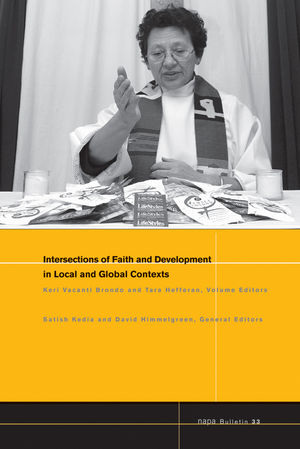 Intersections of Faith and Development in Local and Global Contexts
ISBN: 978-1-444-33911-6 August 2010 Wiley-Blackwell 200 Pages
Description
Focuses on anthropological analyses of and engagements with Christian faith-based organizations (FBOs).
Examines the varied and shifting meanings of religiosity, volunteerism, "doing good," development, charity, and justice
Calls for a greater understanding of the macro-level promises and pitfalls of increasing reliance on FBOs to design and deliver social services and development
Redresses the imbalance of anthropological studies that have focused on the role of secular NGOs
The Anthropology of Faith and Development: An Introduction (Tara Hefferan, Tim Fogarty).
Body and Soul: Faith, Development, Community, and Social Science in Nicaragua (James Phillips).
Incarnational Theology and the Gospel: Exploring the Mississippi Model of Episcopal Medical Missions to Panama (Robert P. Connolly, Keri Vacanti Brondo).
"Saving" Malawi: Faithful Responses to Orphans and Vulnerable Children (Andrea Freidus).
Pan-Latin Radical Hospitality: Faith-Based HIV/AIDS Education in the South Bronx (Debra J. Pelto, María Isabel Santiviago).
A Faith-Based Mental Health and Development Project for Slum Dwellers in Brazil (Sidney M. Greenfield).
Operationalizing Opportunities and Creating Publics in Salvadoran Churches: Findings from an Ethnographic Process Evaluation (James Huff).
Disparate Power and Disparate Resources: Collaboration Between Faith-Based and Activist Organizations for Central Florida Farmworkers (Nolan Kline).
Practicing What We Preach: The Possibilities of Participatory Action Research with Faith-Based Organizations (Katherine Lambert-Pennington).
Resource Guide for Anthropologists Working in Faith-Based Development (Keri Vacanti Brondo, Tara Hefferan).