Intersections of Faith and Development in Local and Global Contexts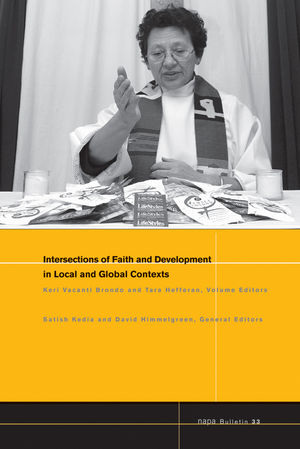 Intersections of Faith and Development in Local and Global Contexts
ISBN: 978-1-444-33911-6
Aug 2010
200 pages
Description
·         Focuses on anthropological analyses of and engagements with Christian faith-based organizations (FBOs).
·         Examines the varied and shifting meanings of religiosity, volunteerism, "doing good," development, charity, and justice
·         Calls for a greater understanding of the macro-level promises and pitfalls of increasing reliance on FBOs to design and deliver social services and development
·         Redresses the imbalance of anthropological studies that have focused on the role of secular NGOs
 
The Anthropology of Faith and Development: An Introduction (Tara Hefferan, Tim Fogarty).
Body and Soul: Faith, Development, Community, and Social Science in Nicaragua (James Phillips).
Incarnational Theology and the Gospel: Exploring the Mississippi Model of Episcopal Medical Missions to Panama (Robert P. Connolly, Keri Vacanti Brondo).
"Saving" Malawi: Faithful Responses to Orphans and Vulnerable Children (Andrea Freidus).
Pan-Latin Radical Hospitality: Faith-Based HIV/AIDS Education in the South Bronx (Debra J. Pelto, María Isabel Santiviago).
A Faith-Based Mental Health and Development Project for Slum Dwellers in Brazil (Sidney M. Greenfield).
Operationalizing Opportunities and Creating Publics in Salvadoran Churches: Findings from an Ethnographic Process Evaluation (James Huff).
Disparate Power and Disparate Resources: Collaboration Between Faith-Based and Activist Organizations for Central Florida Farmworkers (Nolan Kline).
Practicing What We Preach: The Possibilities of Participatory Action Research with Faith-Based Organizations (Katherine Lambert-Pennington).
Resource Guide for Anthropologists Working in Faith-Based Development (Keri Vacanti Brondo, Tara Hefferan).