Intervention Resource Guide: 50 Performance Improvement Tools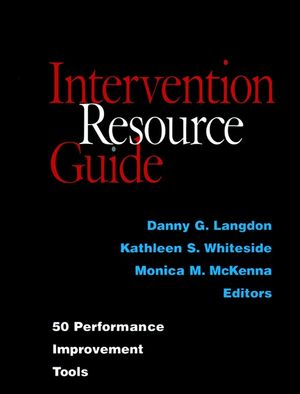 Intervention Resource Guide: 50 Performance Improvement Tools
ISBN: 978-0-787-94401-8 February 1999 Pfeiffer 416 Pages
Description
Your performance improvement toolbox!

You want to be able to:
* Increase your awareness of various performance improvementoptions
* Propose an intervention or a series of interventions to eliminatea performance gap
* Select interventions systematically
* Learn how to implement interventions more effectively . . . andmore!

Here's your toolbox. Interventions are the tools that you can useto effect changes in performance. While many other resources haveidentified the importance of interventions as performance tools,and some resources have even singled out select interventions thatmight be used to drive improvement at an organization, no otherresource has offered you so many interventions.

* How would a 360-degree-feedback program improve yourorganization?
* How could you design communication, leadership, and mentoringprograms?
* When should you improve your compensation systems and employeeorientations?
* How could you maximize the effectiveness of job aids andon-the-job training?

This resource not only answers those questions--and manyothers--but also gives you the field-tested tools you need toproduce measurable modifications in performance. You'll be able tosolve a host of operational dilemmas!

Don't worry about how to face performance problems. Just grab yourtoolbox and go! The Intervention Resource Guide has the toolsyou've waited for.

First, these experienced editors tell you how to select andimplement interventions. Then you get a huge array of fiftyinterventions designed by the top practitioners in the field. Inkeeping with the central tenets of human performance technology,all of these interventions are designed to prompt measurablechanges at your organization. You'll have an easier time justifyingwhy you're doing what you're doing than ever before!You'll get whatyou need for:
* action learning
* competency modeling
* conflict management
* customer feedback
* diversity management
* electronic performance support systems (EPSS)
* performance appraisal
* strategic planning
* teaming . . . and much more!

All these resources are field-tested and formulated for fastimplementation.Among the many leading contributors to thisone-of-a-kind resource are:
* Jean Barbazette
* Dale M. Brethower
* Gloria Gery
* Roger Kaufman
* Danny Langdon
* Bob Nelson
* William J. Rothwell
* Edgar H. Schein
* Sivasailam "Thiagi" Thiagarajan
* Donald Tosti
* Kathleen Whiteside
* Ron Zemke . . . and many others!

You've heard about performance improvement and human performancetechnology. They have sounded promising. But you weren't fully surewhat an intervention was, how to select one, or how to implementone. Now you know! Intervention Resource Guide is your performanceimprovement toolbox.
Buy Both and Save 25%!
Original Price:$145.00
Purchased together:$108.75
save $36.25
Cannot be combined with any other offers.
Preface.

Introduction: Interventions: Their Place and Use in HumanPerformance Technology.

How to Use This Resource.

INTRODUCTION TO INTERVENTION SELECTION AND IMPLEMENTATION.

Selecting Interventions (D. Langdon).

Implementing Interventions (K. Whiteside).

THE INTERVENTIONS.

Matrix of Interventions.

360-Degree Feedback (K. Nowack).

Accelerated Learning (D. Meier).

Action Learning (M. Marquardt).

Assessment Centers (W. Bobrow).

Automated Resume Tracking System (E. Kaminski).

Challenge Education (S. Thiagarajan).

Change Style Preference Models (W. Musselwhite & R.Ingram).

Cognitive Ergonomics (L. Kearny & P. Smith).

Communication (J. Swenson).

Compensation Systems (C. Beeman).

Competency Modeling (D. Dubois).

Conflict Management (L. Hart).

Critical Thinking Systems (R. Wells).

Cultural Change (E. Schein).

Customer Feedback (R. Zemke).

Electronic Performance Support System (EPSS) (G. Gery & L.Jezsik).

Employee Orientation (J. Barbazette).

Expert Systems (F. Estes).

Flowcharts (R. Swanson).

Fluency Development (C. Binder).

Human Resource Information Systems (HRIS) (S. Bristol).

Job Aids (D. Langdon).

Leadership Development Programs (C. McCauley).

Learner-Controlled Instruction (F. Wydra & M. McKenna).

Leveraging Diversity (J. O'Mara).

Mentoring/Coaching (M. Murray).

Motivation Systems (R. Clark).

Needs Assessment (R. Kaufman & R. Watkins).

On-the-Job Training (OJT) (W. Rothwell).

Organizational Development (J. Ford).

Organizational Scan (S. Jackson & D. Tosti).

Outplacement (R. Robinson).

Partnering Agreements (J. Sujansky).

Performance Analysis (D. Brethower).

Performance Appraisal (B. Desautels).

Performance Management (T. Amano).

Policies and Procedures (K. Whiteside).

Process Mapping (D. Langdon).

Recognition Programs (B. Nelson.

Reengineering (S. Stalick).

Results-Based Management (J. Alden).

Safety Management (K. Sloat).

Simulation (S. Thiagarajan).

Strategic Planning and Visioning (R. Kaufman & R.Watkins).

Structured Writing (R. Horn).

Team Performance (J. Woods).

Teaming (D. Mackin).

Training (D. Langdon).

Usability Assessments (E. Weiss).

Work Group Alignment (K. Whiteside).

About the Editors.