Interventional Fluoroscopy: Physics, Technology, Safety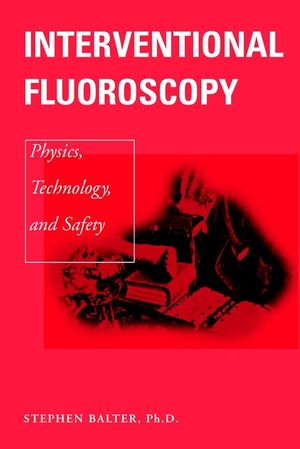 Interventional Fluoroscopy: Physics, Technology, Safety
ISBN: 978-0-471-39010-7 January 2001 304 Pages
Description
Fluoroscopic guidance plays a central role in an increasing number of minimally invasive diagnostic and interventional procedures. Fluoroscopic apparatus and related resources continue to evolve in support of this fundamental technology. Interventional Fluoroscopy: Physics, Technology, and Safety is the first resource to provide information that the clinician needs for the safe and efficient operation of interventional fluoroscopic equipment. Topics discussed include:
* Basic physical and dosimetric concepts common to all forms of X-ray projection imaging systems
* The structure and function of key components found in the interventional fluoroscope
* The nature of the digital image and associated tools, such as image compression and quantitative angiography
* Radiation biology and radiation effects at interventional dose levels
* Radiation safety, including basic principles and operational and regulatory topics
* An introduction to vascular brachytherapy
* Quality assurance of interventional fluoroscopy equipment
Authored by one of the most renowned experts in this field, Interventional Fluoroscopy: Physics, Technology, and Safety is an essential resource for interventional physicians, medical physicists, technologists, manufacturers, and others involved with modern interventional procedures.
Table of contents
Foreword.

Introduction.

Acknowledgments.

PHYSICS.

Radiation Concepts.

Imaging Factors and Optimization.

X-Ray Physics.

FLUOROSCOPIC SYSTEMS.

X-Ray Generation and Control.

X-Ray Image Receptors (The Image Intensifier).

Fluoroscopic and Fluorographic Cameras.

DIGITAL IMAGES.

Digital Images.

Image Networks.

Image Compression Methods in Digital Angiography.

Quantitative Coronary Arteriography.

RADIATION SAFETY.

Radiobiology Biology Concepts.

Radiation Injuries From Fluoroscopy: A 21st Century Déjà Vu.

Stray Radiation.

Operational Radiation Safety.

Radiation Safety Regulations and Requirements.

Endovascular Brachytherapy.

QUALITY ASSURANCE.

Quality Assurance.

References.

Appendix A: Mass Attenuation Coefficients.

Appendix B: International System (SI) of Units.

Appendix C: SI and Historical Radiation Units.

Appendix D: A Partial List of Organizations of Interest.

Appendix E: Glossary.
Reviews
"Specialist radiologists offer clinicians information on using fluroscopy to provide X-ray vision during internventional procedures..." (SciTech Book News, Vol. 25, No. 4, December 2001)