Interventions for Amphetamine Misuse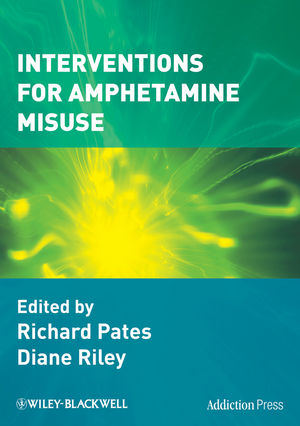 Interventions for Amphetamine Misuse
ISBN: 978-1-444-30984-3 June 2009 Wiley-Blackwell 256 Pages
Description
Interventions for Amphetamine Misuse is a practical, useable guide for health professionals working in the field. It details the physical and psychological problems associated with the drug's abuse, provides a detailed and evidence-based assessment of the interventions currently in use worldwide, and offers a broad historical and cultural overview. The book includes detailed case studies to illustrate the experiences of a wide range of countries including the UK, Japan, Australia, Thailand, and the USA with the aim of drawing together the evidence and reaching a consensus.

This important book also offers an overview of the changes in legislation that have reflected growing concern regarding the evolution in the way that the substance has been formulated. Discussed are the illicit use of amphetamine type substances and the associated dangers and concerns with the treatment of attention deficit hyperactivity disorder and the drug's use in the suppression of appetite.
Contributors.
Dedication.
Acknowledgements.
1. Introduction (Richard Pates and Diane Riley).
2. The physical effects of amphetamine use (Zoe Hildrey, Sophie E. Thomas and Alyson Smith).
3. The psychological and psychiatric effects of amphetamines (Richard Pates and Diane Riley).
4. The mechanisms of amphetamine in the brain (Jan K. Melichar and David J. Nutt).
5. Methylphenidate for the treatment of ADHD: clinical efficacy, abuse potential and consequences of use (Craig R. Rush, Andrea R. Vansickel, William W. Stoops and Paul E. A. Glaser).
6. Amphetamine treatment in the UK: the role of substitute prescribing (Richard Pates).
7. Treatments for methamphetamine dependence: contingency management and the matrix model (Richard A. Rawson).
8. Amphetamine use in Canada (Diane Riley).
9. Treatment responses to problematic methamphetamine use: the Australian experience (James Shearer).
10. The 'P' problem in New Zealand (Chris Wilkins and Janie Sheridan).
11 Japan's long association with amphetamines: what can we learn from their experiences? (Akihiko Sato).
12. The emergence of methamphetamine in Thailand: interventions and treatment (Anjalee Cohen and Catherine McGregor).
13. Stimulant use in Central and Eastern Europe: how recent social history shaped current drug consumption patterns (Jean-Paul Grund, Tomas Zabransky, Kevin S. Irwin and Robert Heimer).
14. Sweden's long experience of amphetamine problems (Kerstin Käll).
15. Harm reduction and amphetamines (Diane Riley).
16. What have we learned: conclusions on treatment (Diane Riley and Richard Pates).
Index.