Intravenous Therapy in Nursing Practice, 2nd Edition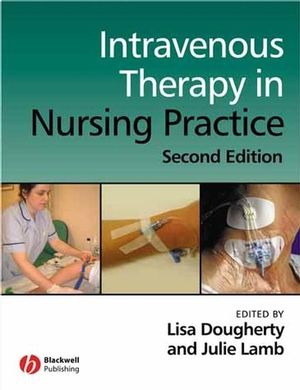 Intravenous Therapy in Nursing Practice, 2nd Edition
ISBN: 978-1-444-30961-4
Mar 2009, Wiley-Blackwell
528 pages
Description
Intravenous Therapy in Nursing Practice provides a comprehensive guide to the management of intravenous therapy in nursing, and explores all aspects of intravenous therapy in both hospital and community settings.


It addresses core clinical skills, including the preparation and administration of intravenous drugs, peripheral venous access, acute and long term central venous access, and paediatric intravenous therapy. The book also explores relevant anatomy and physiology, fluid and electrolyte balance, pharmacological aspects and legal and ethical issues, in order to equip nurses with the skills and knowledge needed in order to provide safe and effective care.


• Addresses key specialist skills, including blood transfusion, parenteral nutrition and safe administration of cytotoxic drugs
• A definitive text for nurses working in the hospital and the community
• Contains contributions from leading nurse practitioners


Intravenous Therapy in Nursing Practice is an essential resource for nurses and health professionals working in intravenous therapy.
Section 1 - Fundamentals
.
1. Legal and Professional Aspects of Intravenous Therapy Lorraine Hyde .
2. Anatomy and Physiology Related to Intravenous Therapy Kate Scales .
3. Fluid and Electrolyte Balance Michele Malster .
4. Infection Control in Intravenous Therapy Sarah Hart .
5. Pharmacological Aspects of Intravenous Therapy Zoe Whittington.
Section 2 - Practice.
6. Safe Administration and Management of Peripheral Intravenous Therapy Teresa Finlay .
7. Local and Systematic Complications of Intravenous Therapy Julie Lamb and Lisa Dougherty .
8. Intravenous Flow Control and Infusion Devices Chris Quinn .
9. Obtaining Peripheral Venous Access Lisa Dougherty .
10. Vascular Access in the Acute Care Setting Kate Scales .
11. Long-term Central Venous Access Janice Gabriel .
12.Intravenous Therapy in the Community Jill Kayley.
Section 3 - Specialities .
13. Blood Transfusion Therapy Liz Bishop .
14. Parenteral Nutrition Clare Shaw .
15. Paediatric Intravenous Therapy in Practice Karen Bravery .
16. Safe Handling and Administration of Intravenous Cytoxic Drugs Janice Gabriel
● The definitive text for this important area of nursing practice
● Addresses all aspects of IV therapy in both hospital and community settings
● Provides nurses with the skills and knowledge needed in order to practice IV therapy safely
● Based on up-to-date research
● Of relevance to nurses in critical care, oncology, surgical, medical and emergency units