Introducing 3ds Max 9: 3D for Beginners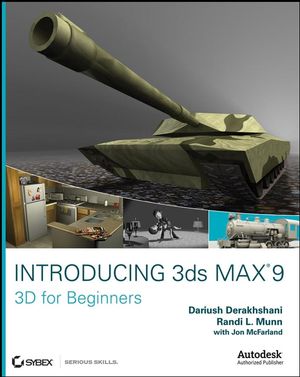 Introducing 3ds Max 9: 3D for Beginners
ISBN: 978-0-470-16948-3
Jul 2007
527 pages
Product not available for purchase
Description
Video game and feature-film artists have used 3ds Max to create Halo 2, King Kong, Myst V, and more. Now you can harness this popular animation software with the clear, step-by-step instructions in this easy-to-follow guide. This book breaks down the complexities of 3D modeling, texturing, animating, and visual effects. Clear-cut explanations, tutorials, and hands-on projects help build your skills and a special color insert includes real-world examples from talented 3ds Max beginners.

Note: CD-ROM/DVD and other supplementary materials are not included as part of eBook file.
Introduction xii
Chapter 1 Basic Concepts 1
How to Read This Book 2
What Is CGI? 2
Production Workflow 4
CG Workflow 8
CG Specialties 12
Core Concepts 14
Coordinate Systems 22
Basic Animation Concepts 23
Basic 3ds Max Terms and Concepts 27
Summary 30
Chapter 2 Your First Max Animation 31
Getting Around in 3ds Max 32
Project and File Management Workflow 32
The 3ds Max Interface 35
Jumping Headlong into Animation 41
Setting Up the Hierarchy 52
Summary 59
Chapter 3 The 3ds Max Interface 61
What Am I Looking At? 62
Managing Scene Objects 96
Summary 103
Chapter 4 Modeling in 3ds Max: Part I 105
Planning Your Model 106
Modeling Concepts 107
Look at the Mesh You Got Us Into! 119
Editable Poly Tools 129
Modeling a Chest of Drawers 137
Modeling a Hand 164
Summary 177
Chapter 5 Modeling in 3ds Max: Part II 179
Setting Up the Scene 180
The Editable Poly Tools 184
Lofting the Barrel 206
Lathing the Wheels 215
Using Snapshot to Create the Tracks 217
Summary 223
Chapter 6 Organic Poly Modeling 225
Setting Up the Scene 226
Creating the Basic Form 231
Adding Detail 254
Final Touches 271
Summary 273
Chapter 7 Materials and Mapping 275
Materials 276
The Material Editor 278
Mapping a Pool Ball 294
Mapping, Just a Little Bit More 302
Maps 305
More Mapping Exercises 309
Mapping Coordinates 315
Summary 323
Chapter 8 Introduction to Animation 325
Hierarchy in Animation: The Mobile Redux 326
Using Dummy Objects 330
Bouncing Ball 333
Using the Track Editor–Curve Editor 335
Track View 350
Anticipation and Momentum in
Knife Throwing 354
Summary 364
Chapter 9 Character Studio and IK Animation 365
Character Animation 366
Character Studio Workflow 366
Creating a Biped 368
Animating a Biped 376
Associating a Biped to a Character 391
Using Inverse Kinematics 399
Summary 404
Chapter 10 3ds Max Lighting 405
Basic Lighting Concepts 406
Three-Point Lighting 408
3ds Max Lights 411
Common Light Parameters 425
Ambient Light 432
Creating Shadows 432
Atmospheres and Effects 438
Light Lister 442
Summary 443
Chapter 11 3ds Max Rendering 445
Rendering Setup 446
Motion Blur 455
Previewing with ActiveShade 457
Cameras 457
Safe Frame 462
Render Elements 463
Rendering Effects 466
Raytraced Reflections and Refractions 470
Summary 477
Chapter 12 Particles and Dynamics 479
Understanding Particle Systems 480
Setting Up a Particle System 484
Particle Systems and Space Warps 499
Using Rigid Body Dynamics 504
Using Soft Body Dynamics 511
Summary 514
Index 515
Tutorials offer realistic, professional challenges for those new to 3D, and to those coming from another 3D application.

Each chapter leads with an introduction to the topic and explains methods, as well why certain methods are used.

Each chapter is richly illustrated with workflows and examples to make following the sometimes difficult subject matter much easier and fun.

The book evenly covers all aspects a beginner should be familiar with for a solid foundation of 3ds Max

Because 3ds Max is used extensively in game creation, the book offers readers extra information for 3D creation in a game pipeline, as well as traditional film and TV production environments.

Teaches the basics of modeling, texturing, animating, and visual effects to familiarize readers with the program as a whole and encourage them to find what aspects of the production pipeline appeal to them.

 Color insert provides real-world examples from talented beginning 3ds max users to attract readers who aspire to learn the software.

The CD includes all the files and support materials needed to create the tutorials in the book.