Introducing Autodesk Inventor 2009 and Autodesk Inventor LT 2009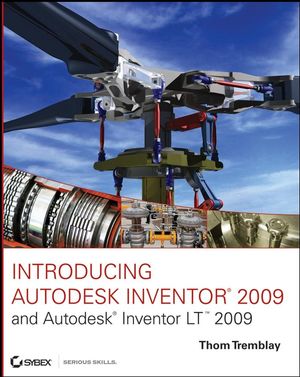 Introducing Autodesk Inventor 2009 and Autodesk Inventor LT 2009
ISBN: 978-0-470-37552-5
Sep 2008
432 pages
Product not available for purchase
Description
Written by an Autodesk Inventor expert, Introducing Autodesk Inventor 2009 and Autodesk Investor LT 2009 is a beginner-level reference guide to this market-leading 3D mechanical design software.   Look more closely at the Inventor interface, learn the basics of drawing, 2D, and 3D capabilities, explore part modeling features and discover sophisticated techniques for working with large and small assemblies.  Understand the software in the context of real-world tasks and workflows and become familiar with topics like standards, styles, project management and communication, sheet metal tools, and creating presentations.



For Instructors: Teaching supplements are available for this title.
Introduction.
1. Inventor Face to Face.
2. Creating 2D Drawings from 3D Data.
3. Intro to Part Modeling.
4. Putting It All Together with Assemblies.
5. Standards and Styles.
6. Advanced Annotation: Drawing Views and Detailing.
7. Advanced Part Modeling.
8. Advanced Assembly Modeling.
9. Working with Sheet Metal Tools.
10. Adding an Artistic Touch with Inventor Studio.
Thom Tremblay and Sybex publishing have taken this top-shelf tool and brought it to the masses. This book not only allows the novice to get their feet wet, but it motivates them by allowing them to easily gain confidence and move from the shallow end of the pool into deeper water. Rating: 4.5 out of 5.—Mark W. Kiker, CADD Manager Journal