Introducing Character Animation with Blender, 2nd Edition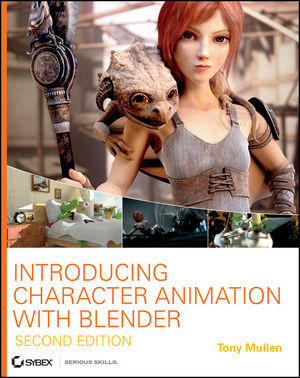 Description
Introducing Character Animation with Blender, 2nd Edition is written in a friendly but professional tone, with clear descriptions and numerous illustrative screenshots. Throughout the book, tutorials focus on how to accomplish actual animation goals, while illustrating the necessary technical methods along the way. These are reinforced by clear descriptions of how each specific aspect of Blender works and fits together with the rest of the package. By following all the tutorials, the reader will gain all the skills necessary to build and animate a well-modeled, fully-rigged character of their own. The character built over the course of the tutorials is included as a .blend file on the companion website, for the reader to experiment with and learn from.

Introducing Character Animation with Blender, 2nd Edition is inspiring as well as educational. A color insert includes sample characters and frames from animations by many of the Blender community's most talented artists, which help to illustrate the impressive potential of the software.
PART I: CREATING A CHARACTER WITH BLENDER.
Chapter 1: Blender Basics: Interface and Objects.
Chapter 2: Working with Meshes.
Chapter 3: Completing the Model with Materials, Textures, and Particles.
Chapter 4: Armatures and Rigging.
Chapter 5: Shape Keys and Facial Rigging.
PART II: BRINGING IT TO LIFE: ANIMATION.
Chapter 6: Basics of Animation.
Chapter 7: Armature Animation.
Chapter 8: Facial Animation and Lip Sync.
Chapter 9: Nonlinear Animation.
Chapter 10: Further Issues in Character Animation.
Chapter 11: Lighting, Rendering, and Editing Your Animation.
Chapter 12: Using Python Scripts.
PART III: BLENDER IN PRODUCTION.
Chapter 13: Blender Institute.
Chapter 14: A Look Inside Blender Open Movies.
Chapter 15: Behind the Scenes at Sintel.
Chapter 16: Plumiferos.
PART IV: BLENDER AND BEYOND.
Chapter 17: Other Software and Formats.
Chapter 18: Resources for Further Learning.
Chapter
Page
Details
Date
Print Run
35
Mistaken reference to companion DVD
"For the left viewport, use the image front.jpg from the book?s companion DVD."

should read:
"For the left viewport, use the image front.jpg from the book?s companion website."

At the time writing began on the book, the plan was to include a companion DVD with the support files. It was later decided to host these files on the website. No additional content is missing. All companion files accompanying the book can be found on the Resources and Downloads tab of this webpage.
5/24/11
1st

---