Introducing Contemporary Feminist Thought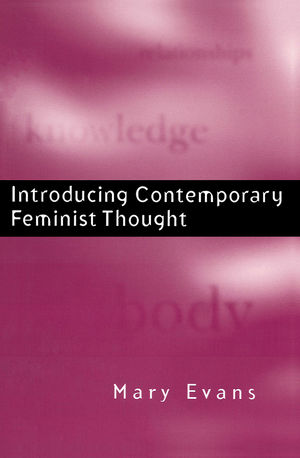 Introducing Contemporary Feminist Thought
ISBN: 978-0-745-66623-5 July 2013 Polity 176 Pages
Description
This introductory textbook offers a concise and lucid account of the main developments in contemporary feminist thinking, and demonstrates the centrality of feminist thought to all areas of intellectual enquiry.
In a wide-ranging discussion, Evans argues that most accounts of the world since the Enlightenment have been constructed in terms of a distinction between the public and the private which excluded women. Using both historical and more recent examples, she examines the breadth and complexity of feminist thinking, focusing on key themes such as the body, representation, engendering knowledge, and the relationship between women and the state.
Evans argues that feminist thought seeks less to add to existing theory than to re-theorize the social and symbolic worlds; no contemporary account of these worlds, she suggests, is complete without a discussion of the implications of gender difference.
This book offers a clear and coherent guide to contemporary feminism for students of women's studies, gender studies, sociology, social theory and literary theory.
Table of contents
Acknowledgements.
Introduction.
1. Enter Women.
2. Public and Private: Women and the State.
3. Engendering Knowledge.
4. Representation.
5. The Body.
6. Feminism and the Academy.
7. Worlds of Difference?.
Notes.
Bibliography.
Index.
Reviews
"This is a compelling and elegantly written book, focusing on the main areas of feminist thinking from the early 1970s up to the present day. Mary Evans departs from other writing on feminist thought, by avoiding sterile debates which categorize feminism into different perspectives. Instead, she charts the changing nature of feminist ideas into a number of key themes, demonstrating both their wide-ranging and interdisciplinary character. The book shows how feminism has been a simultaneously destabilizing and creative force in intellectual and political life, arguing that it holds rich possibilities for rethinking our social worlds.
Introducing Contemporary Feminist Thought
is at the cutting edge of feminist work in the area and will be crucial reading for those wishing to understand contemporary debates and how they have evolved historically."
Mary Maynard, The University of York

"Mary Evans has provided a wide-ranging interdisciplinary snapshot of the history of western feminism over the last twenty years. She draws on a wealth of sources and locates many of the texts that were influential in western feminism in their historical context. As such, the book will be a useful addition to the range of texts available for the beginning student of women's studies." Women's Philosophy Review
Features
* This is an introductory textbook, offering a concise and lucid guide to the main developments in contemporary feminist thinking; its introductory nature is a strong selling point (other books on this subject tend to be written at a more exclusive level).
* Focuses on themes central to current feminist thought: the body, representation, engendering knowledge, women and the state.
* Demonstrates in a clear and compelling way the centrality of feminist thinking to all areas of intellectual enquiry.