Introducing Corporate Finance, 2nd Edition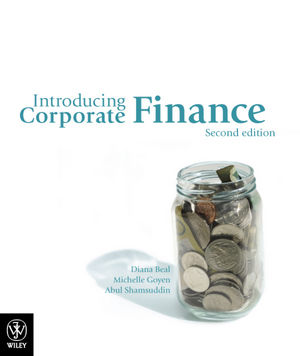 Introducing Corporate Finance, 2nd Edition
ISBN: 978-0-470-81376-8
Jan 2008
776 pages
Product not available for purchase
Description
Introducing Corporate Finance 2nd edition is a text written for one semester introductory finance and corporate finance courses at both the undergraduate and postgraduate level. This text focuses on offering a true introduction to corporate finance, with extensive explanations and case studies that apply real-world finance scenarios to corporate finance theory.

The fundamental concepts and theories of corporate finance are effectively contextualised through the use of Australian company financial data, strategically placed pedagogical elements to reinforce learning and an accessible writing style.
PART 1: FOUNDATIONS OF CORPORATE FINANCE

Chapter 1: Introducing the firm and its goals

Chapter 2: Business structures and Taxation

Chapter 3: Business and the financial markets

Chapter 4: Financial mathematics

Chapter 5: Understanding risk and return

PART 2: INVESTMENT CHOICES

Chapter 6: Valuation of bonds and shares

Chapter 7: Cost of capital

Chapter 8: Planning investments - discounted cash flow techniques

Chapter 9: Planning investments - some real-world companies

PART 3: FINANCING THE FIRM

Chapter 10: Short-term finance - working capital

Chapter 11: Managing current assets

Chapter 12: Long-term external finance

Chapter 13: Dividend policy and internal financing

Chapter 14: Forecasting to evaluate financial decisions

PART 4: SPECIAL TOPICS IN CORPORATE FINANCE

Chapter 15: Risk management

Chapter 16: Capital restructuring - takeovers and divestments

Chapter 17: International corporate finance

CASE STUDIES
Aspects of behavioural finance are considered throughout the text, helping students understand how the predictions of the theories discussed may not always hold in the real world
The writing style and content is accessible to all students as the text offers extensive explanations and case studies to support the theories presented in the text
Real-world data from Australian companies and the financial media help students contextualise the content
Expanded end-of-chapter activities and end-of-book case studies
Extensive use of easy-to-follow and fully-worked examples for calculation questions, many with a corresponding Finance Workshop that allows students to try their skills straight away and refer to the relevant material without flipping through the chapter.
Scene setters present diverse real-world corporate finance scenarios that support learning and apply the theory developed in the chapter
Finance Workshops positioned throughout encourage students to apply their knowledge to typical corporate finance decisions and processes
Worked examples are strategically positioned to reiterate important corporate finance processes and calculations, enabling students to develop a deeper understanding of the topic presented
Finance World is a chapter vignette that presents contemporary business thinking, decisions and opinions on a range of relevant events in the corporate world
Self-Test Problems at the end of each chapter contain a number of activities designed to provide students with the confidence to work through the end-of-chapter exercises and problems. Worked solutions to these Self-Test Problems are provided.