Introducing Maya 2008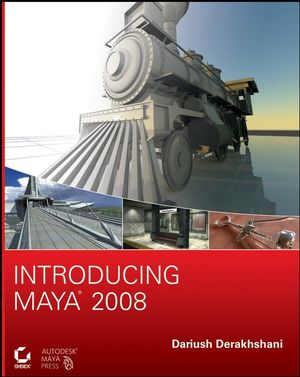 Introducing Maya 2008
ISBN: 978-0-470-27591-7
Mar 2008
585 pages
Product not available for purchase
Description
The new edition of this perennial bestseller is the ideal initiation to 3D and Maya. Starting with the basics, it builds from the ground up, combining straightforward text with practical examples that make it fun and easy to learn Maya's core tools while introducing the latest Maya 2008 features. Follow clear-cut, step-by-step lessons while you learn by doing using a wealth of hands-on files provided on the CD. You'll also find compelling examples in the full-color insert.
Introduction.
Chapter 1: Introduction to Computer Graphics and 3D.
Chapter 2: The Maya 2008 Interface.
Chapter 3: Your First Maya Animation.
Chapter 4: Modeling with Polygons.
Chapter 5: Modeling with NURBS.
Chapter 6: Further Modeling Topics: Deformers and Subdivision Surfaces.
Chapter 7: Maya Shading and Texturing.
Chapter 8: Introduction to Animation.
Chapter 9: Further Animation Practices.
Chapter 10: Maya Lighting.
Chapter 11: Maya Rendering.
Chapter 12: Maya Dynamics.
Appendix: About the Companion CD.
Glossary.
Index.
NEW MATERIAL: Covers the latest features and includes new tutorials and art.
BEST-SELLING: Previous editions have been the best-selling Maya book on the market and received consistently great reviews.
INSPIRATIONAL: Color insert provides real-world examples from talented beginning Maya users to attract readers who aspire to learn the software.
COMPLEX MADE DOABLE: Maya pro Dariush Derakhshani gives beginners just what they need to understand the intricacies of 3D and Maya. The tutorials offer realistic challenges for those new to 3D with clear explanations along the way.
INSTRUCTOR SUPPLEMENTS AVAILABLE ONLINE.
Bouncing_Ball project
Download the Bouncing_Ball project files that were left off the CD, referred to in the exercises on pages 321 and 322.
Download