Introducing Philosophy: The Challenge of Scepticism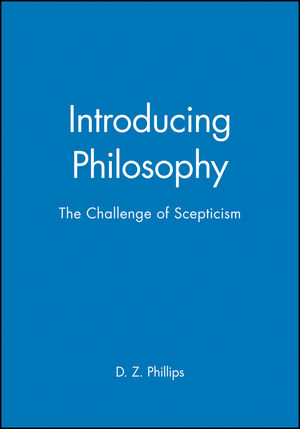 Introducing Philosophy: The Challenge of Scepticism
ISBN: 978-0-631-20041-3 January 1996 Wiley-Blackwell 224 Pages
Description
Written specifically with beginning undergraduates with little or no previous knowledge of the subject in mind, this is a distinctive and thoughtful introduction to the main problems of philosophy structured around a philosophical argument which is clearly and carefully developed throughout the book.
Preface.
Acknowledgements.
1. Philosophers' Doubts.
2. Minds and the External World.
3. Primary and Secondary Qualities.
4. Mind, Brain and Self.
5. The Self and Others.
6. Criteria and Forms of Life.
7. Moral Possibilities.
8. Differences and Dilemmas.
9. Political Obligation.
10. Aesthetic Values.
11. Believing in God.
12. Behaviour, Explanation and Criticism.
13. Interrupting the Conversations of Mankind.
Further Reading.
Bibliography.
"Phillips writes with exemplary clarity and care, and is a reliable guide."
Times Literary Supplement, April
.
"Here is an introduction to philosophy which actually does what we all say should be done. It lets the arguments speak for themselves." Professor Anthony Palmer, University of Southampton
"There should be an introduction to philosophy written by someone who, along with Wittgenstein, suspects that most philosophical problems are false problems - and this is it. Phillips shows that sceptical problems in epistemology, morality, and even to an extent in religion grow out of confusion and anticipate the wrong kind of answers. Anyone with an interest in philosophy, students and teachers alike, can learn from the hard thinking that it takes to recover our bearings in these matters." Professor John H Whittaker, Louisiana State University
"This is a splendid introduction to philosophy... Rather than the pot-boiler approach of taking a topic and proceeding to say, well, there is this view, and then there is this view, and so on, the author does not disguise his belief that a certain overall philosophical position is correct. The book thus stands in the distinguished tradition of Russell's The Problems of Philosophy and A. J. Ayer's Central Questions of Philosophy....When next your offspring start asking awkward philosophical questions give them Philips' book to read." Philosophical Books
"In his Preface Philips quotes a former teacher, 'How can you teach anyone to think unless they see you thinking?' The book is the result of Philips' own philosophical thought and his struggles with its problems....In the classroom I would think this book could be best used in conjunction with the close reading of classical and contemporary texts... students should be asked to reassess that work in the light of what Philips has to say about their questions." Philosophical Investigations
* Lively and engaging introduction ideal for beginning students in philosophy.
* Argues from a definite point of view in the conviction that students cannot be taught how to think unless they see someone thinking.