Introducing Revit Architecture 2008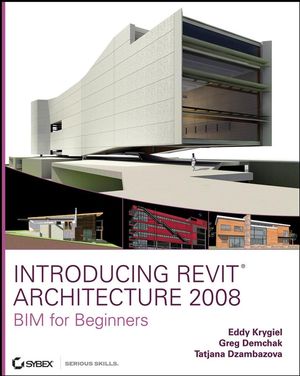 Introducing Revit Architecture 2008
ISBN: 978-0-470-12652-3
May 2007
416 pages
Product not available for purchase
Description
Revit Architecture is transforming how architectural models are designed and documented, and this is the perfect guide to quickly become productive with this industry-leading BIM solution. This practical reference and tutorial offers you a theoretical overview of BIM, explains the principles of Revit, and delves into all of Revit's essential tools. The expert authors are architects whose years of experience with BIM technology have resulted in these pages of impressive examples, practical explanations, and in-depth and detailed tutorials.
Introduction.
Chapter 1  Understanding BIM.
A Brief History of Architectural Documentation.
Advantages of a BIM Approach.
How BIM Is Different from CAD.
Why Revit?
Revit Concepts.
Types of Elements in Revit.
Tips for Getting Started in Revit.
Chapter 2  Getting Acquainted with the Revit Interface and File Types.
The Revit User Interface.
Modifying and Personalizing the Interface.
Selecting and Manipulating Content.
Setting Up Your Project Environment.
Revit File Formats.
Chapter 3  Views.
Data Visualization in Revit.
Creating Views.
Working with Views.
Schedules.
Chapter 4  Modeling Basics.
Levels and Grids.
Basic Walls.
Floors and Roofs.
Doors and Windows.
Components.
Stairs and Railings.
Getting Started with a Project.
Chapter 5  Modifying Elements.
Standard Tools.
Edit Tools.
Graphic and Visual Overrides.
Chapter 6  Extended Modeling .
Walls: Advanced Modeling Features.
Curtain Walls: Advanced Design Techniques.
Roofs and Slabs: Advanced Shape Editing.
Chapter 7  Working with Other Applications.
Exporting.
Importing and Linking.
Working with Imported Files.
Working with Civil Engineering DWG Files.
Converting 2D Drawings into a 3D Model.
Starting a Drawing from a Scanned File.
Chapter 8  Preparing Documents for Clients.
Color Fill Plans.
Area Plans.
Creating Presentation Graphics.
Shadows and Solar Studies.
Rendering a Perspective.
Chapter 9  Sheets.
View Properties.
The Sheet.
Chapter 10  Construction Documentation.
Formatting Your Sheets.
Annotating Your Views.
Dimensions.
Text and Keynotes.
Schedules.
Drafting Views.
Importing CAD details.
Drafting Tools.
Chapter 11  Printing.
Printing Your Documents.
Revit Printing Tips.
Publishing Your BIM Data.
Chapter 12  Advanced Topics.
Families.
Design Options.
Worksharing.
Chapter 13  Troubleshooting and File Maintenance.
Performance.
File Corruption.
Appendix  Inspirational Revit Projects.
Index.
The Companion CD features all the tutorial files necessary to complete the book's exercises, sample families, and a trial version of the Revit software.

Architect and Autodesk Authorized Author Eddy Krygiel is a Revit expert at one of the software development team's most trusted advisory firms.

Focused discussions and practical exercises concentrate on core Revit features, enabling new users to quickly get up to speed.

Real-world tutorials drawn from the author's extensive experience, make the book ideal for students.
Chapter
Page
Details
Date
Print Run
8
Corrupt Chapter 8 file has been fixed


The Chapter 8 file from the CD-Rom (Station.rvt) may be corrupt. If you get the error, "An attempt was made to access Station.rvt past its end." when attempting to open this file, download an updated version. Click the Downloads link to get a new version of Chapter 8's Station.rvt file.

10/08/2007

---

4
94
Text correction
Step 1 of the exercise, first sentence:
The instruction omits mention of the file used for the exercise.
The sentence should read: "Open the Source_House_Walls_Start.rvt file and select the Wall tool from the Basics tab."
2/28/08
1st

---

4
104
Text correction
Step 3, the first sentence, beginning "In the Options bar..." should read:

"In the Options bar, set Height to Level 2 and the Loc Line to Wall Centerline."
2/28/08
1st

---

4
117
Text correction: Incomplete Instructions for "Adding the Main Roof"
Step 11: delete the existing sentence.
Replace with the following text: "Now that the roof is completed, look at the model in a 3D view. As you can see, you can quickly make a roof with a complex outline. However, for our house, we want to simply the roof form. Select the roof you just created and hit the Edit button in the Options Bar. By trimming the roof boundary lines simplify the roof shape into a large rectangle shown in Figure 4.69 below. At this time, don't worry about the areas we have not covered with a roof, we will add some additional roof forms later in this chapter."

Step 12: the first sentence should read
"Select the roof and in the Type Selector, change the roof type from 12" Generic to a Metal Roof type."
2/29/08
1st

---

4
119
Text correction
Step 3 in the instructions should read:
"When you have a closed loop of lines, press Finish Sketch."
2/28/08
1st

---

4
125
Missing image for Figure 4.83
Go to the Resources & Downloads page for a .tif file of the image for Figure 4.83.
2/28/08
1st

---

4
141
Text correction: incorrect filename
2nd line: the filename given: Source_House_Stairs_Start.rvt is not correct.
The filename on the CD is Source_House_Stairs-Railings_Start.rvt
2/28/08
1st

---